Transcend new 16GB SDHC card video cards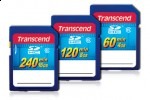 Digital camcorders are slowly moving away from hdd-based storage to SDHC form factor memory card. The increased popularity and demand in HD recording raises a new marketing angle to advertise SDHC cards as HD video cards, instead of the much-traditional category by Class Speed. Evidence seen from the newly announced Transcend 16GB SDHC cards touting HD video transfer speed and capacity.
Essentially a Class 6 SDHC card, the Transcend new "Video SDHC Video cards" are available from 4GB, 8GB to 16GB capacities, offering up to 2 hours and 40 minutes of Full 1080P HD video recording at the speed of 13Mbps compression rate. Same card, new label.
The announcement only covers the new cards' capacities and the length of movie recording at different compress rates. Pricing is not mentioning anywhere from the press release.