Tranquil Moments Bedside & Sleep Sounds Bluetooth Speaker Review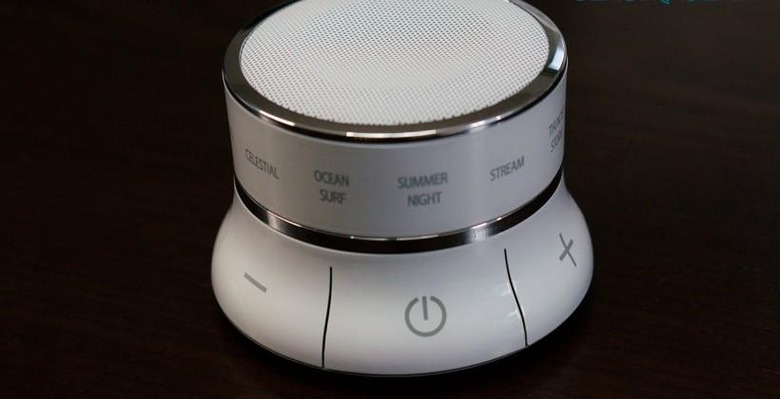 The market is saturated with many types of Bluetooth speakers, but Brookstone's Tranquil Moments Bedside Speaker & Sleep Sounds offers something unique. The portable device comes with preloaded sounds to help its owner sleep and relax, and as someone who suffers from Tinnitus at an early age, I am always on the prowl for something to help me doze off quicker. With that in mind, I am putting the Tranquil Moments speaker to the test.
The speaker's portability makes it easy to carry during travel, and the inclusion of a travel lock ensures it won't accidentally be powered on while in a bag. The device is powered by an internal battery that can be charged via microUSB; it takes about two hours to fully charge using a 5V power input.
The design of the speaker itself is quite attractive, and particularly notable is the top of its body, which functions as a dial for selecting sound options and as an indicator showing the selected sound. The operation buttons, including power, volume controls, sleep timer, and mode switch, are located beneath the dial.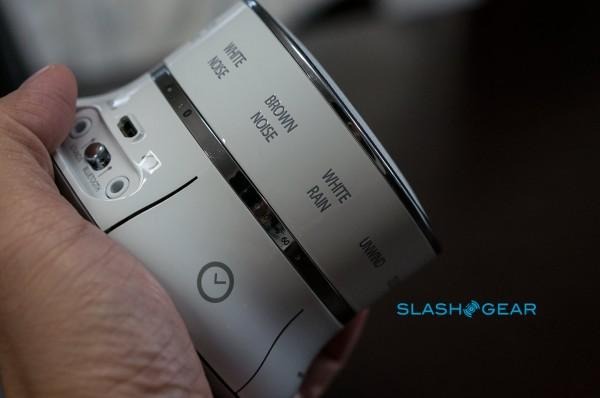 Pairing the speaker to a smartphone or similar device is pretty straight forward, requiring you to simply switch the operation mode to Bluetooth. In addition to the wireless connectivity, the device also sports a 3.5mm aux input and headphones jack. The Tranquil Moments Bedside Bluetooth speaker's sound quality is decent and crisp, but unfortunately it has shallow bass; but again, for its purpose and size, we don't expect it to be pumping booms.
The speaker is preloaded with twelve sleep sounds: rain, thunderstorm, focus, body sync, white noise, brown noise, white rain, unwind, celestial, ocean surf, summer night, and stream. My personal preference was thunderstorm, which seems to comfort me the most – the sound was very natural and soft. During my test, I was able to get roughly 7 hours of battery life, while Brookstone stated the unit would last roughly eight hours (pretty close).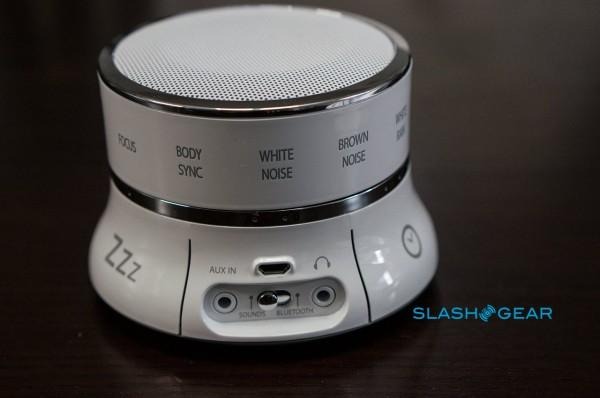 The speaker is priced at $129.99 and is available in white or black. If you do not need a Bluetooth speaker and merely want a simple sound device to which you can sleep, there are many cheaper options out there. However, the Tranquil Moments' added features and portability makes this speaker an attractive option.