Toyota returns to Forza Horizon 4 next month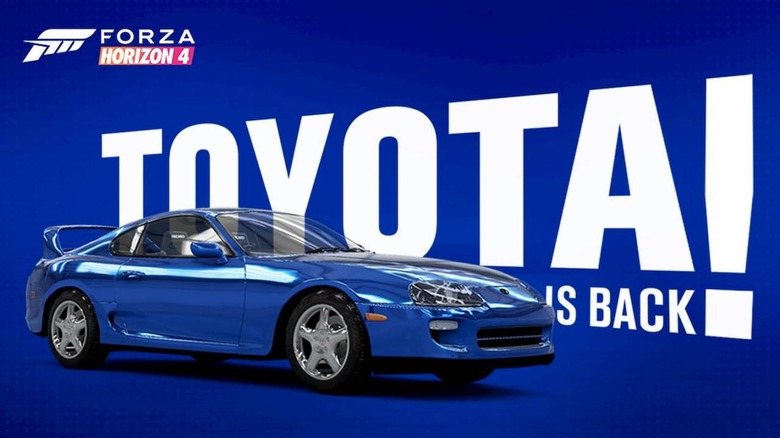 With the Los Angeles Auto Show officially kicking off this weekend, Toyota has some big news for fans of racing games: it's coming back to Forza. Specifically, Toyota cars will debut in Forza Horizon 4 next month, marking the end of the automaker's strange absence from one of the most popular racing series around.
Of course, it hasn't always been this way. There were Toyota vehicles aplenty in Forza Horizon 3, but when it came time to release Forza Horizon 4, Toyota was nowhere to be seen. A quickly-deleted tweet from Toyota UK in August claimed that company didn't want its cars featured in games that promote "illegal street racing," like Need for Speed and Forza, with Toyota then saying that it had no plans to license its cars to games aside from Gran Turismo.
Forza and Toyota have joined forces once again! It all starts on December 12th when #ForzaHorizon4 players can get behind the wheel of the 1998 Toyota Supra RZ as a part of the Series 17 update. pic.twitter.com/7WhGjIqsys

— Forza Motorsport (@ForzaMotorsport) November 19, 2019
Regardless of the real reason behind Toyota's decision to stop licensing to Forza, we're soon to see an about-face. According to a tweet from the official Forza account, Toyota will return to Forza Horizon 4 with the release of Series 17 on December 12th.
Series 17 will include the 1998 Toyota Supra RZ, but for now, that's all we know. While we'd expect Series 17 to offer more than car, it isn't clear if we'll get more cars from Toyota or if that Supra RZ will be the only one.
Beyond that, whether or not we'll get more Toyota cars after the launch of Series 17 is unknown. One would hope that this announcement indicates more than just a one-off release for Toyota and Forza, but there's no knowing until the two companies shed more light on their long-term plans. We'll keep an eye out for that information, so stay tuned for more.