Toyota "Fine-Comfort Ride" concept vehicle is a hydrogen-powered EV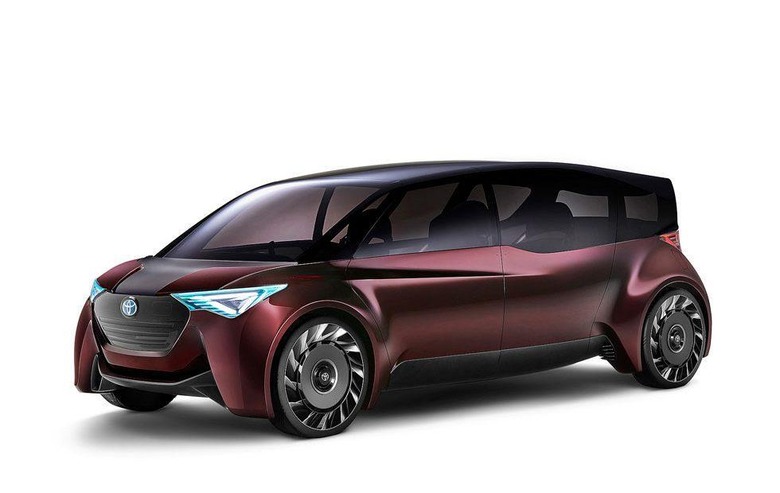 Toyota has unveiled a new concept car that it sees as the future of the premium saloon. The car is called the Fine-Comfort Ride concept and it is a fuel cell vehicle that runs on electricity created using hydrogen. Like all fuel-cell powered vehicles, the Fine-Comfort Ride produces no CO2 emissions in operation and has a long cruising range and needs only three minutes to refuel with hydrogen.
The exterior of the concept has a diamond-shaped cabin that is narrower in the rear and wider in dimensions in the front and center of the vehicle to maximize the space for occupants. The electric motors are in each wheel and the wheels are pushed to the corners of the vehicle for more interior space. The bottom of the vehicle has a cover to make the cabin quieter.
Inside the concept, Toyota used the notion of being wrapped in comfort. There are four individual seats inside that can swivel in any direction. The seats have reclining mechanisms and the windows have tablet-like functionality integrated. Toyota says the seat layout can be adjusted.
It's not clear if that means the seats swivel, which can be seen in the images in the gallery, or if seats are actually removable. Presumably, it's the swiveling action being talked about. The concept is 4,830mm long x 1,950mm wide x 1,650 mm high and has a 3,450mm wheelbase. It can haul a total of six people.
It's hard to tell, but a third-row bench seat is integrated into the rear of the concept. Toyota says that the fuel cell vehicle would be capable of 1,000km cruising range in the JC08 test cycle.
SOURCE: Toyota