TouchPad Will Be "Number One Plus" Tablet Promises HP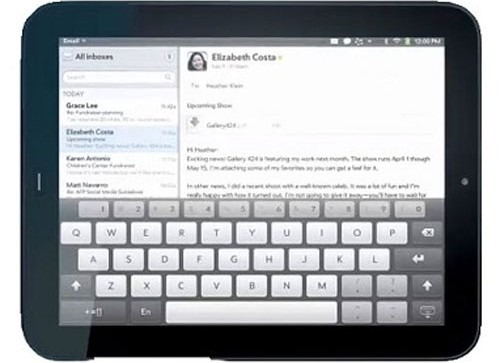 HP expects its tablet to be better than number one when it launches. I think the company may be setting its sights a little too high. HP says that it is calling the goal number one plus for the TouchPad tablet when it launches later this year. I guess an argument could be made with HP running away with the top spot in computer shipments, it is number one plus. The tablet market may prove to be a much harder nut to crack for HP though with the huge lead other firms like Apple have in the tablet realm.
HP's European head Eric Cador boasted at a press conference, "In the PC world, with fewer ways of differentiating HP's products from our competitors, we became number one; in the tablet world we're going to become better than number one. We call it number one plus." The TouchPad will run WebOS, which HP acquired when it gobbled up Palm. Cador also said, "Only one company plays in both the consumer and business and world. We tend to talk about technologies. But the way the user is going to look at tablets means it's about experience. The way the corporate is going to look at it is to say that its employees, who are also consumers, have got to like it and it's got to be secure. We're going to deliver that. Beyond that, it's about marketing and branding."
HP plans to put its "full weight" behind the TouchPad to break into the tablet market. It will be a tough road with the iPad dominating the market and Android tablets slumping. An exact launch date on the TouchPad is still unknown. The tablet turned up last week in the inventory system of Wal-Mart for $599 with 32GB of storage. The tablet is expected to land sometime this summer.
[via Telegraph]