Toshiba unveils ZL2, world's first 55-inch glasses-free 3D TV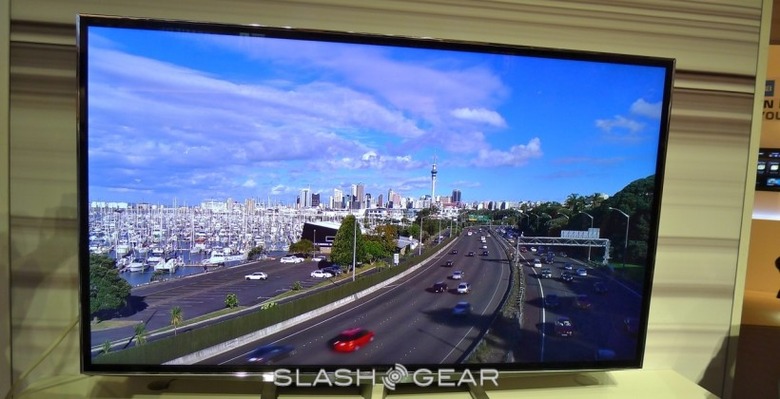 Toshiba is announcing a new ZL2 55-inch TV that it claims is the world's first large-screen glasses-free 3D TV and is the company's most advanced TV to date. In addition to the latest imaging technology with a glasses-free 3D display, the ZL2 also boasts face tracking, Resolution+, Auto Calibration, 2D to 3D conversion, and Smart TV features such as Toshiba Places.
The ZL2 also claims to be the first to offer a consumer-targeted TV with a Quad Full HD display that has a 3840 x 2160 pixel resolution. This means an amazing 2D viewing experience as well with four times your usual Full HD resolution.
The 3D technology used is based on delivering slightly offset pictures to the left and right eye to achieve a 3D effect. And since there can be multiple viewers facing the screen at varying angles, the ZL2 utilizes a range of lenticular lenslets along with face recognition to provide 3D images for up to nine different viewing positions.
Content that wasn't originally formatted for 3D, can be upscaled to 3D, including DVD, Blu-ray and even regular TV broadcasts. The conversion also includes depth control so that you can adjust the 3D depth to your liking.
Besides upscaling from 2D to 3D, you can also upscale resolution to the ZL2's Quad Full HD display with Toshiba's Resolution+ image enhancement technology. Again, content that can be upscaled include DVD, Blu-ray, and even your regular TV programs that are in SD or HD resolution.
Other features include Auto Calibration support that ensures color and grayscale levels are presented correctly, while WiFi connectivity offers a host of content viewing and sharing capabilities. Through Toshiba Places, you can access on-demand videos and other internet services such as Facebook.
However, the Toshiba ZL2 Series has not been given an official price or release date yet. For now, you can soak up the features list and some more photos of the TV below:
Toshiba ZL2 features:

- 139.7cm (55") Glasses-Free 3D TV

- Quad Full HD (3840 x 2160) resolution display

- Face tracking technology via integrated camera

- 2D to 3D conversion with depth control

- Built in Wi-Fi, DLNA® and Windows 7 compatibility

- Freeview HD ready tuner

- Resolution+ and 3D Resolution+

- Toshiba Places

- YouTubeTM, BBC iPlayer

- Personal TV

- Remote control operation via iPhone®

- AutoView ambient light sensor

- Built-in subwoofer

- USB HDD Video Recording

- Auto Calibration

- 4x HDMI, 2x USB

- REGZA-LINK (HDMI CEC)