Toshiba unveils Tegra 4-based Excite Android tablets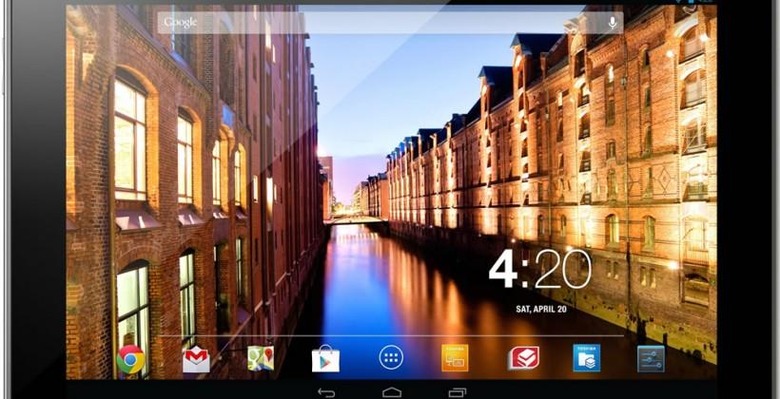 Toshiba has announced a variety of new products, among them being three new Excite tablets offering Tegra 3 and 4 processors and high-resolution displays. The slates are all set to be available online the end of this month, and will hit major retailer shelves in July. We've got a gallery, as well as the specs, after the jump.
The three new tablets are comprised of the Excite Pure, Excite Pro, and Excite Write. All three of them are adorned with 10.1-inch displays, two of which (Excite Pro and Excite Write) are Toshiba's PixelPure 2560 x 1600 Retina-competitors. Likewise, all of them run Android Jelly Bean 4.2, and feature respectively a touchscreen digitizer (Excite Write), Harman Kardon speaker, and, best of all, NVIDIA Tegra 4 processors (Pro and Write). The Excite Pure features a Tegra 3.
Speaking of the Excite Write specifically, the addition of a touchscreen digitizer aims it at digital artists and others who require a more precise touch than the average tablet offers. Toshiba says the Write offers a "pen and paper experience," which makes doing things like drawing and handwriting notes more natural and detailed. This tablet in particular comes with the TruNote app for note taking and organization, as well as the ThinkFree Office Mobile for Android app.
Said Toshiba's VP of Marketing: "With more and more consumers adopting tablets as their go-to devices for entertainment and travel, we wanted to push the boundaries even further and equip our new Excite tablets with the technology and features needed to maximize the potential of these devices. By focusing on boosting the capabilities of the screen – from increasing the resolution to adding a digitizer option – we're also evolving the way consumers can use these devices from consumption to creation."
The Excite Pure is the cheapest of the bunch, starting at $299.99, featuring specifically 16GB of memory, 1GB of RAM, and a 3-megapixel camera. The Excite Pro is next at $499.99, offering twice the storage and RAM with an 8-megapixel camera. And the Excite Write rounds the three out at $599.99, with the same features as the Excite Pro, with the addition of the touchscreen digitizer.
They'll hit ToshibaDirect.com on June 25, and elsewhere sometime early in July.