Toshiba unveils new AIO PC called Qosmio DX730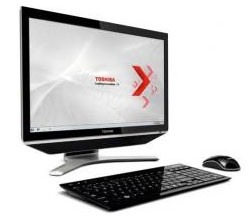 Toshiba has a new AIO computer that will take up little space on the desk and looks really cool too. The company is called the Qosmio DX730 and it has a 23-inch screen and is styled to look similar to the REGZA line of HDTVs. The DX730 has a touchscreen as well. The screen offers 1920 x 1080 resolution and it has a Freeview tuner integrated. That allows the PC to tune in TV channels.
Other features include a Blu-ray drive and Onkyo speakers so you can hear the movies and multimedia you play on the computer. The computer will be offered with a choice of different Intel Core processors including Core i5 and i3 offerings with cheaper Pentium offerings for budget shoppers. The AIO can be fitted with up to 6GB of RAM and up to 1TB of storage space.
The DX730 also has WiFi inside along with Bluetooth 3.0. The mouse and keyboard that are included are wireless as well. The price and launch date are not offered. Toshiba only states the DX730 will ship later this year. The computer will launch in the UK and pricing details will come closer to launch.