Toshiba Thrive Unboxing And Hands-On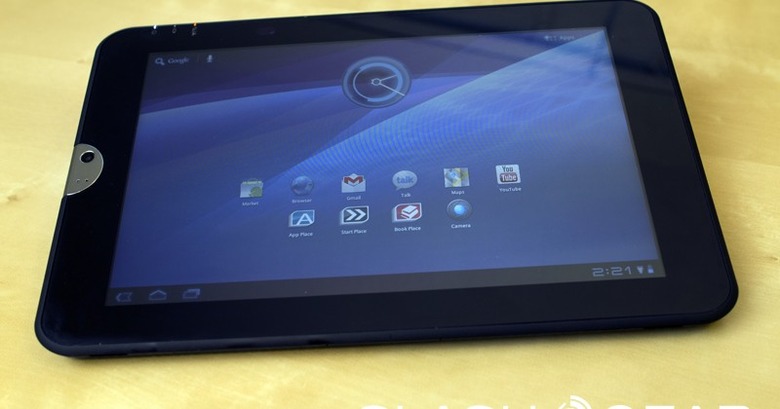 Instead of trying to imitate the svelte iPad 2, the Toshiba Thrive goes big with beauty on the inside—sort of. The 10.1-inch tablet running Android 3.1 Honeycomb takes advantage of a larger chassis to include some powerful specs and unusual extras. I got the tablet in just this morning and will have a full review coming soon. For now, continue after the cut for the unboxing and hands-on video.
The Toshiba Thrive features a 10.1-inch capacitive multi-touch screen with a 1280 x 800 resolution and a 16:10 aspect ratio. Inside, it boasts an NVIDIA Tegra 2 dual-core processor and 1 GB of RAM. It features a 2-megapixel front-facing camera and a 5-megapixel rear-facing camera capable of 720p HD video capture.
And unfortunately, it is just as heavy as it looks, if not more. It's incredibly bulky at 0.6 inches thick. But with the extra room, the Thrive does throw in some unique features such as a full-sized USB port, a full-sized HDMI-out, and a full-sized SD card slot. There's a user-replaceable battery that's rated for up to 7 hours of continuous HD video playback along with a back cover that has a rubberized surface with a nice grippy texture and can be swapped for different color options.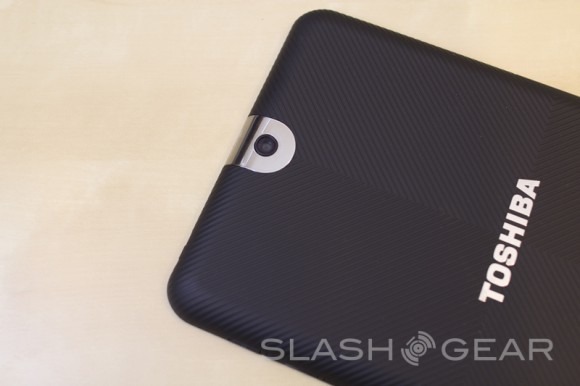 The Android 3.1 Honeycomb install is plain vanilla, which means no custom UI layer running on top that could slow things down or make future updates difficult. However, there are several preloaded items that give a little bloat. There's the Windows-style Toshiba File Manager, the Swype keyboard UI, and also the Resolution Plus software that cleans up and upscales videos. Additionally, the Thrive comes with hardware accelerated Adoble Flash and supports console-quality gaming.
The Toshiba Thrive comes in 8GB, 16GB, and 32GB models starting at $429.99. I'll be spending some time with this big boy, so make sure to check back for the full review.
[vms 4874304911625ac34321]