Toshiba StorE TV+ Features 2TB HDD and Integrated WiFi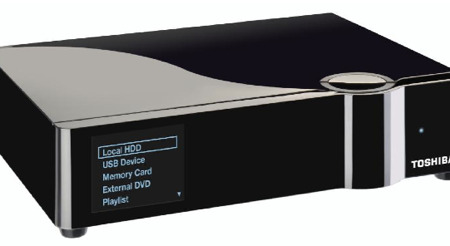 While not necessarily shown off at this year's IFA, we can say that it was by proxy. Considering the presence that the company has at this year's show, we think it counts. In any event, they've just officially announced that their brand new StorE TV+ is coming to the market soon, and it offers up plenty of goodies for anyone who wants to get their streaming media on. Especially if you're not a fan of watching TV on your computer, and prefer to see it right there, on your TV, where it should be.
The StorE TV+ is, first and foremost, a media drive that features a 2TB hard drive. It will connect directly with your TV, as long as your TV can, you know, connect to something like this. Other features include 10/100 Ethernet port, and integrated 802.11 b/g/n WiFi. And, if you're one of those people that doesn't like to turn your TV on just to see what's on, you'll be happy to know that there's an LCD on the front panel, which will tell you what's going on even if your TV isn't on.
If you're curious to know about file formats that the StorE TV+ supports, you'll be happy to know it has many of them handled. For audio, it can play Ogg and Flac, as well as others. As for video, you're looking at support for MPEG-1, 2, and 4, as well as H.264. You also get support for VC-1 codecs, MOV, MP4, MKV, WMV, and AVI. You'll notice that there's DivX and XviD missing, unfortunately. The media drive will be available some time in September for about $307, or £200.
[via CrunchGear]