Toshiba Ships First MQ01ABDH Hybrid Series Drive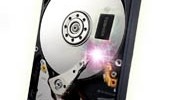 Toshiba is one of the biggest names in storage products, and it offers a wide range of internal storage devices and external storage devices. Toshiba has announced that it has started shipping its first Hybrid Drive MQ01ABDH series (PDF) storage devices. These new Hybrid Drives combine the performance of a SSD with the capacity and pricing of a traditional HDD.
Toshiba offers the drives with capacities of up to 1 TB, and the drives are 2.5-inch form factor with a 9.5 mm height. The new Hybrid Drives use SATA connectivity and have self-learning caching algorithms to learn the data access patterns of the user and optimize performance. These algorithms determine what data should be stored in the flash memory for quick access and what data should be stored on the traditional magnetic platters.
The hybrid drive is initially available in 1 TB and 750 GB capacities. Toshiba says the drives are sized for use in ultrathin and standard notebooks, gaming PCs, AIOs, and slim desktops. The hard drive portion of the Hybrid Drives spins at 5400 RPMs and has an average seek time of 12 ms.
On 1 TB and 750 GB capacity Hybrid Drives the amount of NAND Flash storage is 8 GB. Toshiba says that the design of the Hybrid Series storage devices will enable faster system boot times and faster data access. Pricing on the new drives is unannounced at this time.