Toshiba Satellite M305-S4826 Notebook Review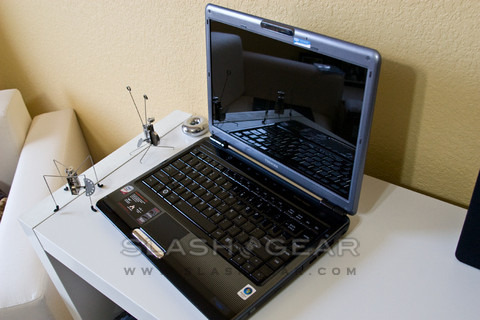 Toshiba's Satellite range went through a shake-up back in April, arguably in an attempt to bring some of the multimedia Qosmio gloss to its more bread & butter machines. Out went drab casings and middle of the road specs, replaced with a stylish new design and the promise of healthy performance. SlashGear has been taking a look at the Toshiba Satellite M305-S4826, a fixed-spec notebook running Intel's T8100 Core 2 Duo processor with 3GB of RAM and a 14.1-inch WXGA display capable of 720p high-definition. The 14-inch laptop space is a hotly contested one: can this particular Satellite stand out?
First impressions – by which we mean the moment before you actually touch the M305 – are good. Toshiba call the finish on this particular laptop "Fusion" with an "Horizon pattern"; we'd call it metallic silver with black pinstripes, but either way it's a far better look than the last-generation of machines. The keyboard too has had its own makeover, buffed to a high-gloss. As soon as you touch it, though, the M305 gets a whole lot more frustrating: there's no biometric scanner, but the notebook certainly saves your fingerprints. Just about the only non-gloss part of the notebook that you'll commonly touch is the trackpad, which sits flush with the wrist-rest and is matte and slightly textured.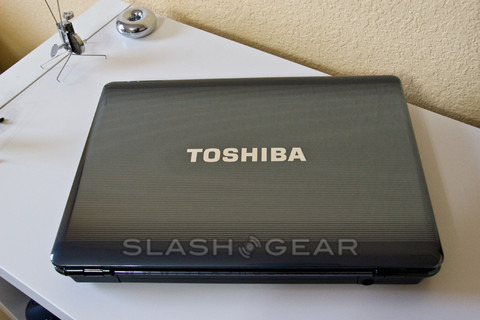 Under the hood, the M305 has the aforementioned Core 2 Duo CPU running at 2.10GHz, 3GB of PC5300 DDR2 667MHz SDRAM, an 800MHz FSB and Mobile Intel Graphics Media Accelerator X3100 with up to 358MB of shared video memory. The hard-drive is a 250GB unit spinning at 5,400rpm, and there's a DVD burner, webcam and microphone. Connectivity is via WiFi a/b/g, modem or 10/100 ethernet; strangely there's neither Bluetooth nor the option to specify it. Three USB ports, Firewire, VGA, multi-standard memory card reader, an ExpressCard slot and dual-purpose headphone/SP-DIF audio out socket round out the rest of the ports; a space for an HDMI socket is covered up with a blanking plate. Onboard sound is courtesy of a pair of harman/kardon stereo speakers.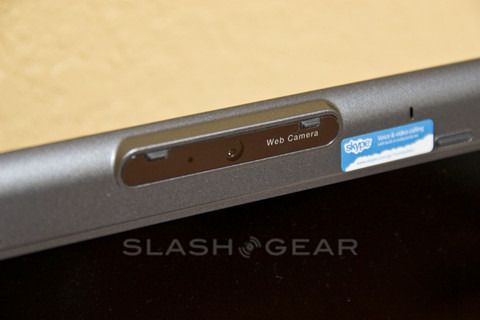 One of the neatest tricks up the M305's proverbial sleeve is its Sleep-and-Charge ability. When plugged in, the USB ports all continue to supply power to anything attached, meaning you can recharge your iPod or phone without needing to leave the notebook switched on. The prerequisite for having a mains connection means you won't inadvertently drain the M305's battery in the process. Sleep-and-Charge is now a standard feature across all Toshiba's Satellites, however the company bizarrely leaves it turned off by default.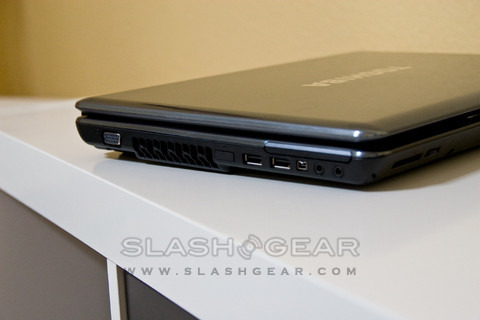 Toshiba supply Windows Vista Home Premium, but appear to have been taking lessons from Sony when it comes to bloatware. Expect to spend an hour or so, with several reboots, before you've got a "factory fresh" machine; the multiple links, pop-ups and trials of Microsoft Office, Skype, Napster, backup tools and many, many other apps aren't just a distraction but actually slow the system down significantly. We know manufacturers get paid for including all this junk, but we're at the point where system satisfaction is being impacted because users believe their new machine runs much slower than it actually should. It's a poor sales tool, anyway, since the sheer mass of adverts are so overwhelming that we'd wager few actually take any notice; one careful suggestion would be far more effective than eighty of them all screaming.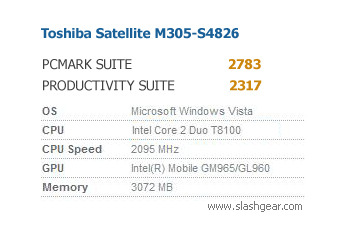 Once you're rid of the rubbish, the M305 actually runs reasonably well. Benchmarks are entirely average for a machine at this price-point, and we experienced no problems running several different applications simultaneously and, generally, multi-tasking as the average user would. The video capabilities are likely to be the biggest factor holding the M305 back from today's high-end gaming titles.
We set a DVD playing and switched the screen brightness to full in order to test the 3700mAh battery, with the M305 lasting almost an hour and three-quarters. In the real world, with use consisting of web browsing and juggling Office documents, we'd expect to see the Satellite nudge 2.5hrs. That's not exactly class-leading, but considering most users will only sporadically expect to run the notebook when off mains power it's unlikely to be too much of a deal breaker. Leaving aside its occasionally distracting finish, the keyboard is solid and comfortable to type on, with decent sized arrow, function and shift keys. Build quality in general is reasonable, and while the hinges look small there's little unwanted flex.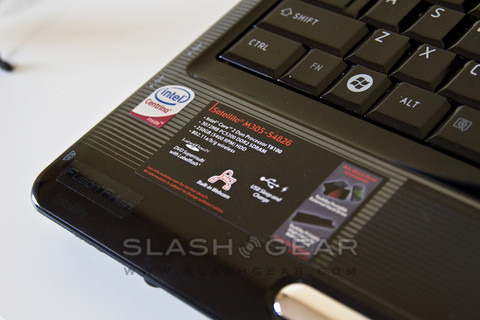 When we actually sat down to watch some of that DVD, the M305 proved a reasonable media machine. The glossy screen coating proved less susceptible to reflections than we perhaps expected (unlike the keyboard, then), the 1,280 x 800 resolution was crisp and relatively blur-free, and the speakers gave the fair – if not desk-shaking – performance you might expect from harman/kardon. We noticed the absence of a subwoofer, as other notebooks of this size sometimes include, with music playback leaning toward the high- and mid-end.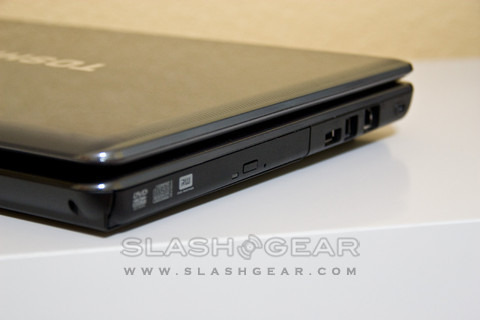 Priced at $1,049.99 there's plenty of competition for the Satellite M305-S4826, and perhaps not the eye-catching functionality the machine needs in order to stand out from the rest. Conversely, Toshiba may have actually gone too far with the casing finish, particularly the keys which quickly become greasy. Charge-and-Sleep could be a neat selling point, but Toshiba's odd decision to leave it turned off might mean that some users never actually realise it's there. Similarly, the absence of Bluetooth seems a cost-cutting step too far.
Nonetheless, it's a solid machine and, once the bloatware is vanquished, performs as well as could be expected from the spec sheet. Power users, video editors and gamers would, unsurprisingly, be better catered for elsewhere, but anyone wanting a dependable notebook should have the M305 on their shortlist.
The M305-S4826 is available now, priced at $1,049.99 with a one-year warranty, direct from Toshiba.Unboxing video of M305-S4826
[rating: 3.5]