Toshiba Satellite E105 stands out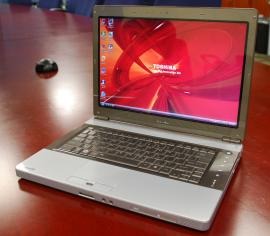 The Toshiba Satellite E105 is definitely a stand out from the typical Satellite line up. In fact, it's very appearance is different than other laptops of this type. It has a lighter color, flatter edges, a backlit keyboard and more.
Specs for this laptop include a 14.1-inch WXGA display, a 2.26GHz Intel Core 2 Duo P8400 processor, 802.11a/g/n WiFi, GMA 4500M HD graphics and 4GB of RAM. In all actuality, this notebook is packed with features. It has all sorts of connections as well, such as S/PDIF, HDMI, eSATA, USB ports and more.
Windows Vista is also included along with a two-year warranty. You can expect up to 5.5 hours of battery life, which is rather impressive. The Toshiba Satellite E105 will be released shortly for $1,250 and if you need a laptop that will work hard for you at home and on the go, this might be a good choice for you.
[via Crave at CNET]