Toshiba Satellite Click 10 puts Windows 10 in a budget 2-in-1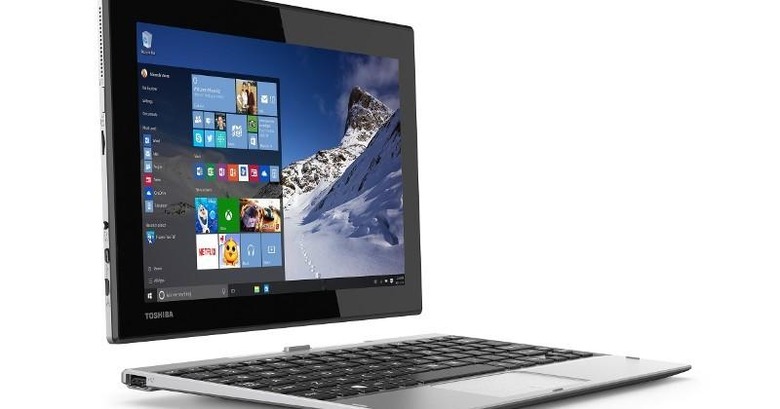 Toshiba has just come out with a new detachable 2-in-1 PC and, fortunately or unfortunately depending on your inclinations, it is not a Surface Pro clone. Nor could it be, considering its specs. The Satellite Click 10 does bring all that Windows 10 has to offer and crams it inside an Atom-powered 10-inch tablet that physically connects to a keyboard dock when productivity calls for it. All of this in a sub $400 price tag that's sure not to burn a whole through your wallet.
Given Lenovo's and Dell's new and upcoming convertibles, the Toshiba's nod to the traditional laptop design might look a tad disappointing, if not outdated. But not everyone has the budget to splurge on a fancy Surface Pro 3 clone and, let's face it, the design does have its limitations, like a lap. The Satellite Click 10 has a more serious personality to it, resembling a traditional laptop when docked on the keyboard.
Separated, you have a 10.1-inch tablet with a fine resolution of 1920x1200. The tablet, however, is more along the lines of the low end, betrayed by the Intel Atom x5 running inside. There is 2 GB of RAM and a choice of 32 or 64 GB of internal storage, which might not mean much since there is a full blown Windows 10 running on top. It does have a microSD card slot to supplement that and two full USB ports on the keyboard dock for external storage.
The 2 megapixel front camera might be OK for video chat but the 8 megapixel rear shooter isn't going to win any awards. Toshiba's TruTalk micrphones feels designed for Cortana, who can be summoned with a dedicated Cortana key. Audio feedback is delivered through stereo speakers fine tuned with Dolby Digital Plus technology. External video can be coursed through the tablet's micro HDMI port.
The Toshiba Satellite Click 10 has started its pre-order period on select online and physical retailers and will go for $349.99. The detachable PC is estimated to ship out starting September 28.