Toshiba rolls out entertainment PCs and redesigned Haswell-based Satellite laptops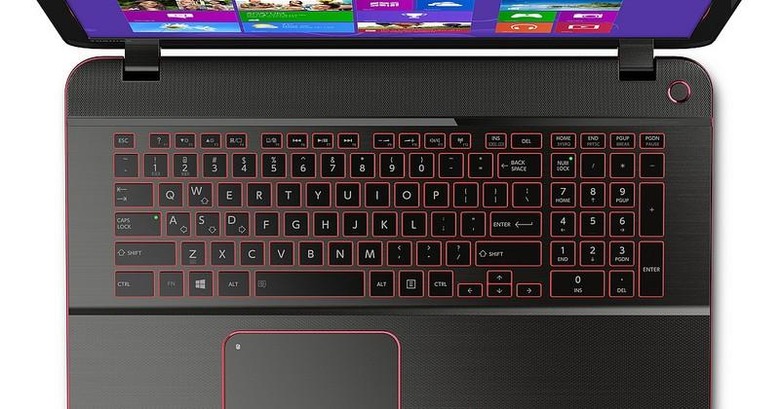 In addition to the Tegra 4-based Android tablets Toshiba announced today, the company also unveiled several new entertainment PCs and refreshed Satellite laptops, which run on "Haswell" fourth-generation Intel Core processors. The Satellite laptops will be available from Toshiba online June 9, while the entertainment systems have a more vague date of "mid-June".
First up are what Toshiba is calling its latest two "entertainment hubs," the Qosmio X75 laptop and the all-in-one PX35t desktop PC. The Qosmio X75 features a 4th-generation Intel Core i7 alongside Turbo Boost Technology, with the ability to install up to 32GB of RAM. Graphics come by way of an NVIDIA GeForce GTX 770M, as well as NVIDIA CUDA. There's room for dual-drives up to 1.25TB. The display is a big 17.3-inch Full HD TruBrite, and there's a 4K UltraHD HDMI output for those with a 4K TV in their entertainment room.
If a desktop is more in line with your needs and you don't mind an all-in-one system, there's the PX35t, which offers a 23-inch Full HD 1080p touchscreen. Users can get it with a 4th-generation Intel Core i3, Core i5, or Core i7, depending on preference. Storage comes by way of a 1TB 7200rpm HDD, and there's 16GB of RAM.
The Qosmio X75 laptop starts at $1,399, while the PX35t starts at $1,029.
Toshiba Qosmio X75 and PX35t desktop PC:
In addition to the new entertainment machines, Toshiba has also unveiled new Satellite laptops: the P Series, and the S Series. The machines are boasted as being trimmed down by up to 25-percent over previous offerings, offering better battery life and other features.
The Satellite P Series is available in a variety of 4th-generation Intel Core processors, depending on preference, with up to 1TB of HDD storage, a max of 32GB of RAM, and up to an NVIDIA GeForce GT 740M for graphics. The displays, which have edge-to-edge glass, are available in both 15.6-inch and 17.3-inch sizes – both options are Full HD TruBrite panels. The smaller of the two models is also available with a touchscreen display. Both machines have 4K Ultra HD HDMI output.
The S Series is similar, but substitutes a tad in terms of features by making it up in style. As with the P Series, these machines are available with 4th-generation Intel Core processors and up to an NVIDIA GeForce GT 740M GPU. There's an extra screen option over the other series at 14-inches, with all three sizes being available in touchscreen options. The larger two sizes – 15.6 and 17.3-inches – can be confured in up to Full HD resolution.
The trackpads don't have buttons and support multi-touch. There's up to 1TB of storage available, 16GB of RAM, USB 3.0, and regular HDMI output, rather than the P Series' 4K HDMI output. The keyboard is LED backlit, and there's a Blu-ray player. The Satellite P Series starts at $754.99, while the Satellite S Series will start at $699.00.
Toshiba Satellite P75A7200 and S75t-A7217: