Toshiba Q Series Pro PC Internal SSD upgrade kit debuts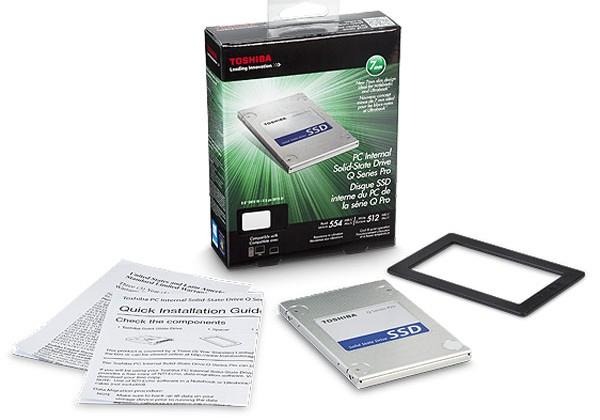 Toshiba has announced a new upgrade kit designed to help computer users get the performance of a SSD inside their computers. The upgrade kit is called the Toshiba Q Series Pro PC Internal SSD. Toshiba promises that the SSD upgrade kit will offer faster boot up and overall performance for the computer.
Toshiba says that the SSD upgrade kit is ideal for gamers, graphics pros, and multitaskers that want to significantly increase PC performance. The SSD requires less power than a standard hard drive making computers using it more power miserly.
The SSD itself is 7 mm thick making it thin enough to be used with ultrabooks on the market today. Toshiba ships the upgrade kit with a spacer allows the 7 mm thick drive to be used in a traditional 9.5 mm internal notebook drive bay. Toshiba bundles a free downloadable copy of migration software to make it easy to transfer existing data to the SSD.
The Toshiba Q Series upgrade kit is backed by a three-year warranty and will be offered in 128 GB, 256 GB, and 512 GB capacities. Pricing for the SSD upgrade kit is $159.99, $309.99, and $739.99 respectively. The upgrade kits are available for purchase now.
SOURCE: Toshiba