Toshiba Portege R705 Review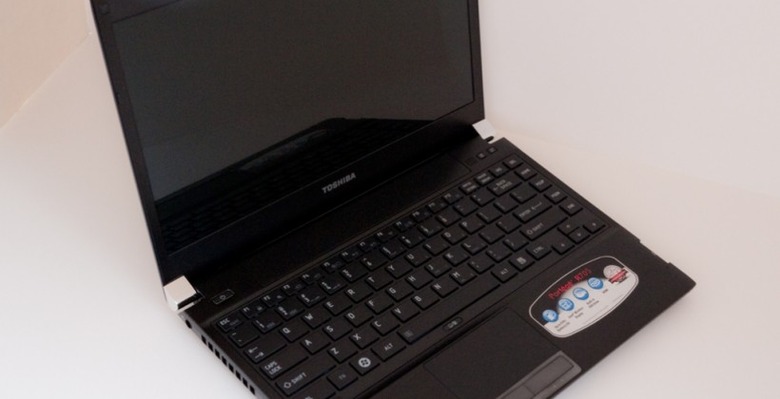 Toshiba's Portege R705 is an unexpected addition to the company's ultraportable range. Based on the Portege R700 unveiled as part of Toshiba's 25th anniversary for notebooks, the R705-P25 is a Best Buy exclusive with an MRSP of $889.99 but a street price that scrapes in at under $800. That makes it the cheapest Portege to date, and Toshiba would like us to remember it's also the lightest 13.3-inch notebook with an integrated optical drive (outside of Japan, at least). Light in the bag and light on the wallet: is the downside lightweight performance? Check out the full SlashGear review after the cut.
The Portege R705's reasonably sober aesthetics are quickly forgotten when you first pick the notebook up: at around 3.2lbs it's an incredibly light machine. Screen open, you can hold it upright in one hand by the corner with little in the way of straining; it's also sturdy, with no flex or twisting. The shiny metal hinges and discrete metallic blue finish to the plastics make it feel more in line with the higher-spec $1,300+ configurations than the $800 the R705-P25 actually commands. Toshiba has used a new, honeycomb internal palmrest configuration and a custom cooling system in collaboration with Intel, and the end result is a sturdy and easily totable ultraportable that's a mere 16.8mm at its thinnest point.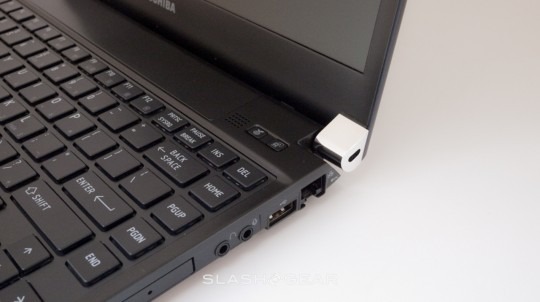 Inside is an Intel Core i3-350M processor running at 2.27GHz, paired with 4GB of DDR3 memory, a 500GB hard-drive and a DVD burner. There's also integrated Intel HD graphics, WiFi a/g/n – with support for Intel's Wireless Display "WiDi" technology – and gigabit ethernet, while ports include two USB 2.0, a combo eSATA/USB, HDMI and a memory card reader. OS is Windows 7 Home Premium (64-bit). Unlike Toshiba's Portege R700 models, the R705-P25 is a fixed configuration; that means you can't add Bluetooth or pick from the faster Core i5 or Core i7 CPUs, nor swap the 5,400rpm HDD for an SSD.
[sgbenchmark id=104 show=system]
Usability is high, with a bright 13.3-inch 1,366 x 768 16:9 LED-backlit display over a chiclet-style non-backlit keyboard and a multitouch trackpad. Unlike the R700 we saw at launch there's no biometric fingerprint scanner in-between the two trackpad buttons. Still, the keyboard is tactile and comfortable, with a pleasantly springy feel, while the trackpad is smooth, easy to control and has well-placed keys. Horizontal viewing angles on the screen are decent, but vertical angles are narrower; happily the screen angles back to a reasonable extent – though not entirely flat – so we could usually find a usable balance.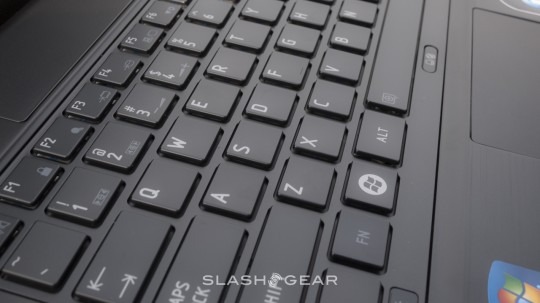 We benchmarked the Portege R705 using Geekbench, a synthetic test of processor and memory performance. It scored 4,150 overall, with a strong CPU showing held back by memory bandwidth performance; that's almost 450 points more than the 13-inch MacBook Pro, with its 2.4GHz Core 2 Duo CPU and the same amount of RAM.
[sgbenchmark id=104 show=score]
In terms of real-world performance, as you might expect the Portege R705 is certainly sufficient for everyday multitasking, though it falls short of gaming prowess. We were able to browse with several windows and tabs open, playing music in the background and occasionally writing emails without seeing any slowdown. The Intel HD graphics are comfortable with HD video playback – the 1,366 x 768 display supports 720p, while the HDMI output can handle 1080p – but games will have to be lightweight if they're to avoid dropped frames.
As for battery life, Toshiba reckon the R705 is good for up to eight hours from its standard 6-cell 66Wh pack. Unsurprisingly that's on the ambitious side, and with average use as described above the Portege lasted just over five hours at medium brightness. Playing a DVD on repeat saw that knocked down to a under four hours, however, which is something to bear in mind if the integrated optical drive is a key draw to the ultraportable.
That media content can be enjoyed either on the R705 itself or wirelessly using Intel's WiDi system; there's a dedicated button to turn it on, just above the keyboard on the top right, though you'll need to pick up a WiDi adapter like Netgear's Push2TV to take care of the TV side. Budget around $100 for that. With everything hooked up, you can either use your HDTV rather than the Portege's own display, or extend your desktop across, and the connection is quick enough to handle a 1080p Full HD video.
Toshiba made a big deal of their new cooling system, which, rather than pushing out hot air, pulls in cool air over the repositioned hotter components. In reality we didn't notice much of a difference: during regular use the R705 was as cool running as any other 13.3-inch ultraportable, while during intensive tasks the hot part of the chassis was simply moved from where the CPU is to along the edge near the outlet vent. It's a quiet running notebook, though, which is certainly welcome. We'd be interested to see how the more potent Core i5 and Core i7 systems handle heat, since they'll likely be pushed harder than the Core i3 of the R705-P25.
That's not to say this Best Buy special falls short. Toshiba took a risk putting their Portege brand to a (relatively) budget machine, and happily the risk paid off. While we might like to have seen Bluetooth instead of WiDi, the R705-P25 neatly balances everyday performance with impressive portability and strong build quality. Mobile professionals looking for heavy crunching abilities should look to Toshiba's more expensive models, and we wish there had been space and budget for a dedicated graphics card rather than the Intel HD chipset, but it's a relatively minor complaint when you consider the target audience. At under $800 it's hard to argue with the Toshiba Portege R705-P25.