Toshiba Portege R500 - Super slim and super light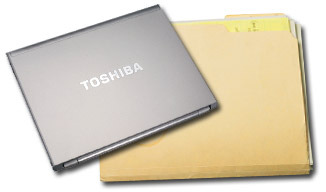 Toshiba has just announced their new Portege R500 which will replace the R400 in their slim tablet category. It packs a lot of features in a super-thin package.
You'll get a 12-inch LED backlit screen, a Core 2 Duo U7600 CPU with 1GB RAM and a 120GB HDD. You'll get some other good features like a super-slim DVD drive, a spill-resistant keyboard, a 3D accelerometer which will keep your hard drive safe, Bluetooth and WiFi.
The best part is that they've somehow crammed all of this into a .77-inch thick case that weighs only 2.4 pounds. This is almost half the weight of the Dell that was leaked yesterday. Granted, the Dell does sport a slightly larger screen, but I would probably take the lighter notebook any day. Toshiba boasts that in Q3 they plan to reduce the weight further bringing it down to 1.72 pounds.
You can pick one of these up starting today for around $2000.
Toshiba's new ultra-slim ultraportable [via crave]