Toshiba Portege R500-12Q - it has a 128GB SSD!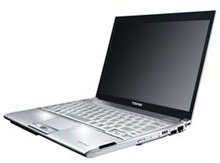 This notebook has a 12.1-inch screen that is LED backlit, a Core 2 Duo ULV U7700 processor, a couple gigs of RAM, a DL-DVD-RW drive, and then the 128GB SSD drive. This might actually be one of the most energy efficient notebooks there is that still maintains a respectable about of storage space.
I mean, sure the ULV processor, LED backlit display, and SSD drive will help keep the battery life up, but they also combine to help keep the price up. There wasn't one listed on any of the sites, and apparently this particular model can only be found on a few of Toshiba's international sites right now, but I can guarantee it's going to cost you a pretty penny.
Lets just say that a 128GB SSD in a 2.5-inch form factor is going for at the minimum, $3000 on Google Products right now, and they are going as high as just over $4000. So, you can bet you'll be paying at least that much for it, and then probably tack on another grand or so for the rest of the notebook that's attached to it.
[via Engadget]