Toshiba Mini NB305 Netbook Review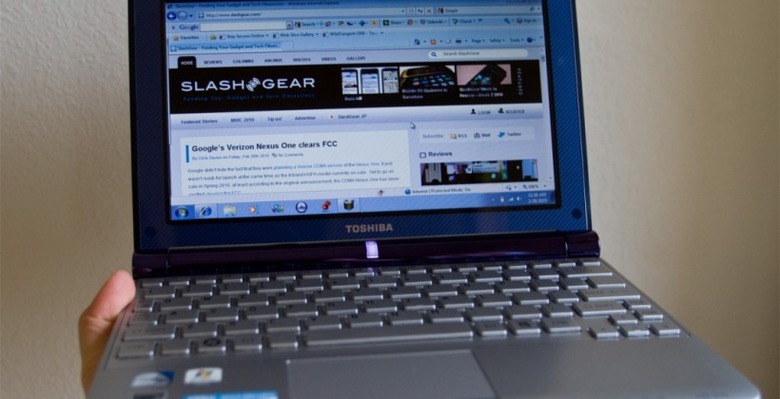 Intel's Atom N270 processor – and the surrounding limitations on specifications – had a lot to answer for: over a year of cookie-cutter netbooks. With the advent of Pine Trail, Intel look to be loosening their grip on the segment a little, at least, but does the Atom N450 offer a genuine improvement over its well-worn predecessor? Toshiba sent over their latest netbook, the Mini NB305; check out the full SlashGear review after the cut.
Our review unit, the NB305-N410B, comes with Intel's 1.66GHz Atom N450 processor, 1GB of RAM and a 250GB 5,400rpm hard-drive. The 10.1-inch 1024 x 600 display uses GMA 3150 graphics, and there's WiFi b/g/n, 10/100 ethernet, a webcam, three USB 2.0 ports (one of which remains powered when the netbook is turned off, for charging phones and PMPs) and a multitouch trackpad. The whole thing measures a reasonably compact 10.47 x 7.57 x 1.43 inches, weights 2.60lbs and has a textured Royal Blue finish.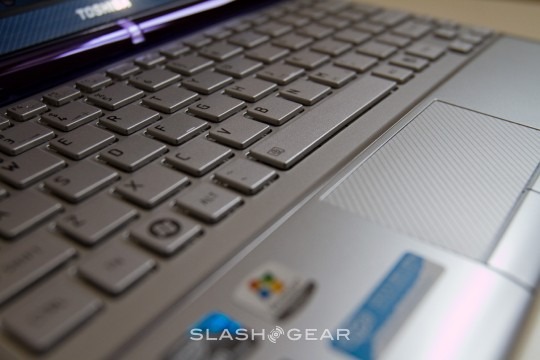 Build quality is high, and the design – though using plenty of plastic – is at least pretty distinctive among the netbook rank and file. The textured finish on the outer lid continues around the screen bezel, and there's a bright blue power button/LED in the middle of the hinge. Toshiba have wisely given the NB305's keyboard pretty much the full width of the netbook to play with, and the result is one of the better 'boards we've used. Each key balances springiness and travel nicely. Underneath sits a large, multitouch-capable touchpad that required some settings-fiddling before it would play nicely with pinch-zoom and rotate gestures.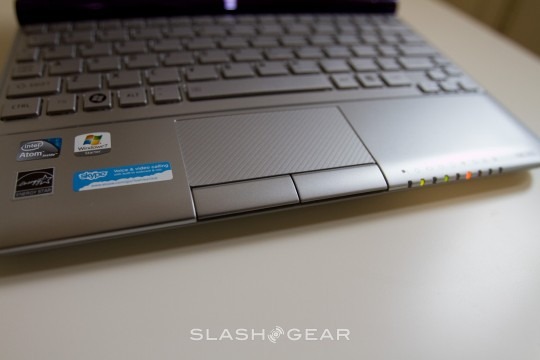 As for the 10-inch display, it's bright without being washed out. We did notice some vertical banding, however, though decent viewing angles went some way to making up for that. The 1024 x 600 resolution – while on a par with other 10-inch netbooks – does leave us wishing for the higher 1366 x 768 panels we've seen on other ultraportables. Still, the Intel GMA 3150 graphics aren't really sufficient for anything above basic video; even 720p HD is beyond the NB305's abilities. Standard definition video – whether streaming or local – works as expected, and the NB305 is quiet under most usage scenarios; that's handy, because there are rival netbooks out there with stronger speakers than the Toshiba's middling performance.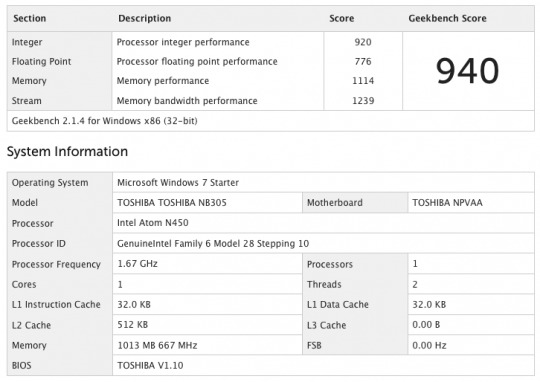 As for more general performance, we benchmarked the NB305-N410B with GeekBench, a synthetic test of processor and memory. The Toshiba scored 940 overall, with lower processor scores pulled up by stronger memory performance. It's only a little stronger than a last-gen Intel Atom N270 processor, however; an ASUS Eee PC 1000H we benchmarked over a year ago, for instance, delivered 883 (albeit running Windows XP versus the NB305's Windows 7 Starter). In real-world use, the Toshiba's capabilities were sufficient for some basic multitasking – emailing and listening to music while surfing the net, for instance – but we still wouldn't recommend a netbook, even a newer Pine Trail model, for anything more ambitious.
Toshiba rate the NB305's 6-cell 5,800 mAh battery as good for over 11hrs runtime, but as ever we'd wonder exactly what you'd be doing – or not doing – with your netbook to manage that sort of longevity. We managed just under 7hrs of solid video playback, while a more balanced test mixing web browsing over WiFi, text entry and music playback prolonged that to a little over 8hrs. On the up-side, the battery only extends a little on the underside of the NB305 – raising the keyboard angle quite usefully – rather than sticking out the back.
Overall, then, the Toshiba Mini NB305-N410B is a decent netbook and probably of more interest to those entering large amounts of text while mobile. The mediocre graphics of Intel's GMA 3150 chipset and the non-HD resolution of the NB305's display mean this isn't the machine you'd want to organise your multimedia life around, either. Neither is it the most long-legged of budget ultraportables, but with a balance of build quality, good looks and decent everyday performance this latest Toshiba Mini is a strong netbook choice.