Toshiba introduces new MKxx56GSY 500GB 7200rpm notebook HDD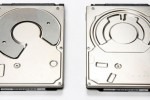 Toshiba makes a full line of hard drives in all sorts of sizes and capacities. The company has announced a new 500GB HDD aimed at laptop users that spins at 7200 rpm. The small HDD uses a 2.5-inch form factor.
Inside the small drive hides two platters with 250GB of storage each. The maximum areal density of the platters is 395 Gb/in2 and the MKxx56GSY HDD has a maximum transfer rate of 1,255 Mbps. The average seek time is 11ms.
In addition to being fast and offering high storage capacity, the drive also offers decent shock resistance ratings. Operating shock resistance is rated at 325 G and non-operating shock resistance is rated at 900 G. The new 500GB drive is set for mass production in Q4 2009.