Toshiba HD-A2 HD-DVD players under $100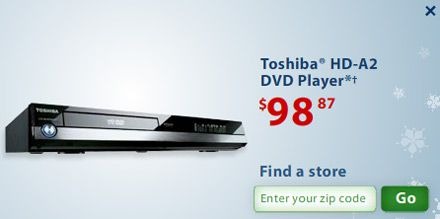 Just when you thought one day of death and mayhem on the Friday after Thanksgiving was too much, Wal-Mart goes and decides to do it every Friday in November with a few deals each time that are likely to incite rage on par with the T-Virus. One of the deals for this Friday is that fames Toshiba HD-A2 HD-DVD player for $98.87.
Take that Blu-Ray Disc Association! The cheapest Blu-Ray player is still sitting at about $400 and that's on sale.
Other deals from Wal-Mart include a big TV for really cheap, an Acer laptop for $348 and so on and so forth. You get the idea, they release the new deals advertising on Thursdays and they start on Friday, and like I said, I am pretty sure they are doing it every Friday in November, this week there are 5 not-so-secret secret deals, I don't know if that is constant number or not.
Toshiba hd dvd players at wal-mart for under $99 [via technabob]