Toshiba Crams Battery Inside New TVs For Viewing With No Power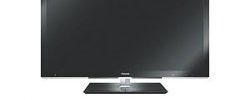 Bad weather sucks for more than one reason. The least of which is the fact that it gets boring if your TV doesn't work and you can't watch anything when the power is out. If you live in a rural area like I do with crappy power providers you might spend way more time with no juice than anyone in the developed world should have to. Toshiba has announced a new line of TVs that will keep your set running for a while when the power goes out.
The new line of TVs are dubbed the Power TV series and has a battery inside that allows the set to keep running for up to two hours. Naturally, the only way you will be able to get programming is over the integrated OTA tuner inside the set. The new line has a few products in it including the PC1, PS1, and PB1 sets. The PC1 and PS2 are both LED backlit to save power.
Toshiba is also pulling out a couple other TVs that are in the Cell Regza line with the 55ZL800 viewing a 2D/3D set that has the newly developed Cevo Engine inside with video processing using the Cell Regza tech. The set also has a sound bar built-in. The WL700 series set is only 29mm thick and supports 3D with LED backlighting for power savings. Pricing and availability for the sets is unknown.