Toshiba Biblio ebook reader mobile phone tips up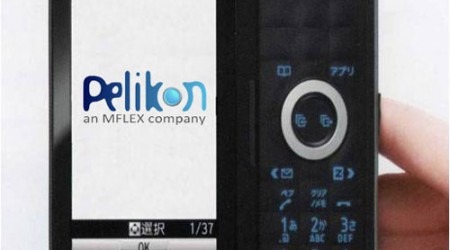 The Toshiba Bibilo eBook reader mobile phone is an interesting device for the user who likes the idea of an eBook reader that they a can always have on them. MFlex has announced that the Biblio mobile phone uses its Morphpad Display technology. The handset itself is a horizontal sliding device that has keyboard.
When the phone is held in landscape mode the slide out keyboard is a full QWERTY unit. However, then the keyboard is slid out and held in portrait mode it shows a numeric keypad. The keyboard has an integrated lighting system that uses little power and is visible outside and indoors. When the power is off the keyboard is a blank black surface.
The Morphpad also provides full tactile feedback to the user when typing and can use various display colors. "With so many functions accessed on consumer electronic devices today, it's more important than ever to enhance the user experience," said Matt Wolk, vice president of corporate development and chief strategy officer at MFLEX. "We've developed a technology that enhances the user interface and operation of smartphones and other electronic devices. By morphing the Biblio keypad for multiple applications the user now has maximum flexibility and ease of use."