Toshiba AT7-A 7" Android tablet leaks with Jelly Bean

Toshiba has launched some tablets in recent times, including the Excite Write featured below. Now hints of another one in the works has surfaced: the AT7-A slate running Android Jelly Bean. Information about the tablet has cropped up in some benchmarks over at the GFXBench site, and although details are sparse at the moment, it does give us a few specs.
Taking a look at the benchmarks, we see that the Toshiba AT7-A is running Android 4.2.2 Jelly Bean, and is likely featuring a 7-inch display based on the listed 1024 x 600 resolution. In addition, as far as specs go, it looks like inside we'll find a 1.6GHz processor and ARM Mali-400 graphics. Unfortunately, there aren't any other relevant details provided in the benchmarks.
Toshiba hasn't said anything about the tablet one way or the other, and so while it would be nice to get a look at some more specs, we will have to wait for some more detailed leaks or an official announcement of the slate, whichever comes first. Thus far there's no indication of when the AT7-A tablet might be released, nor how much consumers can expect to pay for it.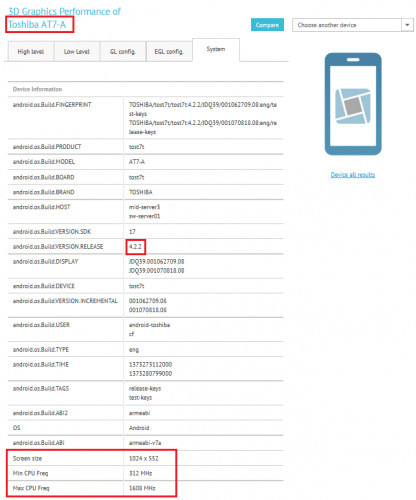 To get an idea of where Toshiba might go with the tablet, we can take a look at the Excite Pure, Pro, and Write tablets the company unveiled last month, each of which runs Android and features a 10.1-inch display. These tablets sport Tegra processors, were launched last month, and were priced at $299.99 (Pure), $499.99 (Pro), and $599.99 (Write).
The Excite Write tablet was launched with pen support, and featured such things as an 8-megapixel rear camera and 32GB of storage. Given the smaller screen size of the AT7-A, it isn't a stretch to imagine the price will fall lower than these tablets, but that is yet to be seen.
SOURCE: Android Community