Toshiba has just debuted a handful of new PC storage options in the form of solid state drives (SSD) and traditional SATA hard drives (HDD). The Q300 SSDs are the flagship offerings, boasting of speed and performance improvements. The SATA HDDs are targeted for a number of purposes, including high performance, low energy usage, and mobile laptop users. With the new hard drives available in a number of size configurations, those looking for extra storage for their computer will easily be able to find one that fits their needs.
First up is the Q300 and Q300 Pro. Both are A19nm NAND SSDs, offering drastic speed improvements when it comes to accessing files, booting up, and waking from sleep. The standard Q300 is aimed at mainstream PC users looking for better performance than a standard HDD. It features 3-bit-per-cell flash and read-only mode, and comes in 120GB, 240GB, 480GB, and 960GB capacities.
As the name implies, the Q300 Pro is aimed more at users with high performance demands, including graphics creators, gamers, and professionals. This model features Adaptive Size SLC Write Cache technology, 2-bit-per-cell flash, along with read-only mode, patrol read, and thermal control. Size options include 128GB, 256GB, and 512GB.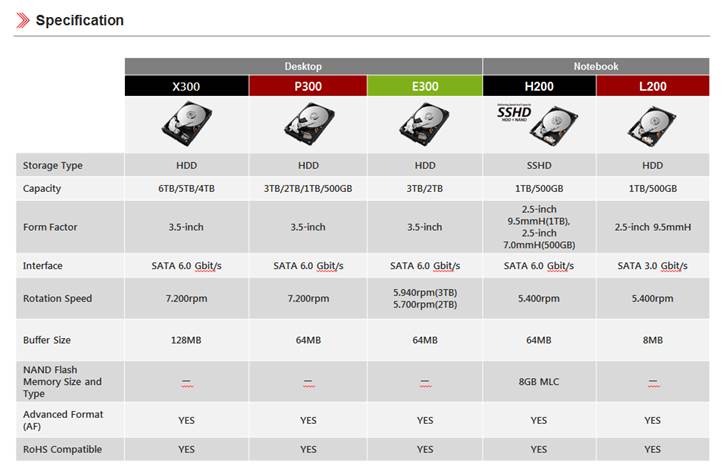 The 3.5-inch desktop SATA HDDs include the E300, intended for generic, low energy uses; the P300, for high performance needs; and the X300, aimed at power users, graphic designers, and gamers. The specs and options for each are as follows:
X300 – 128MB data buffer, 7,200 rpm speed with dual-stage actuator, and 4TB, 5TB, & 6TB sizes.
P300 – 64MB data buffer, 7,200 rpm speed and SATA 6 Gbit/s interface, and sizes of 500GB, 1TB, 2TB, & 3TB.
E300 – claims 25% less energy consumption than other 7,200 rpm HDDs, available in 2TB and 3TB sizes.
The final two are 2.5-inch HDDs for laptops. The L200 is for reliable daily performance while on the go, in capacities of 500GB and 1TB. The H200 is a high performance solid state hybrid drive (SSHD), which combines the speed and performance of a SSD with the extra capacity of a HDD. This model is aimed at both performance laptop users and game consoles, and is also available in 500GB and 1TB.