Toshiba announces EXCERIA SD cards: world's fastest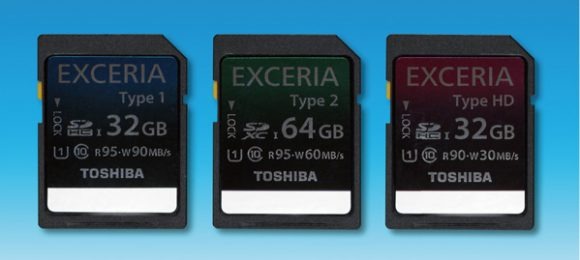 We all have that need for speed: SSDs are getting faster and faster, and technologies like USB 3.0 and Thunderbolt help keep things moving swiftly along. If you have a large SD card full of images, it's not that much fun pulling them all over to your computer. Toshiba aims to reduce the frustration that goes along with slow transfer times, today announced a new line of high speed SD cards, which they claim are the world's fastest.
They're dubbing the new line the EXCERIA series, designed to offer the highest level of performance. SDHC and SDXC cards will be available, starting at 8GB and going all the way up to 64GB. There are three different classes of card: Type 1, which offers the highest read and write speeds of 95 and 90MB/s respectively; Type 2, which offers read speeds of 95MB/s and write speeds of 60MB/s; and finally Type HD, which offers read speeds of 90MB/s and write speeds of 30MB/s.
How have Toshiba managed to achieve such high speeds? By using the latest version of the SD Memory Card standard, 3.0 UHS-I. That allows for data transfer speeds in the range of 25MB/s up to 104MB/s. Toshiba say a minimum read and write speed of 10MB/s is guaranteed across the line.
The EXCERIA Type HD line will be the first to go on sale in April. The fastest cards, Type 1, will follow in July, while Type 2 will come in August. No prices available yet, but keep your eyes peeled on your favourite e-retailer.