Toshiba and Fujitsu hard drive agreement explained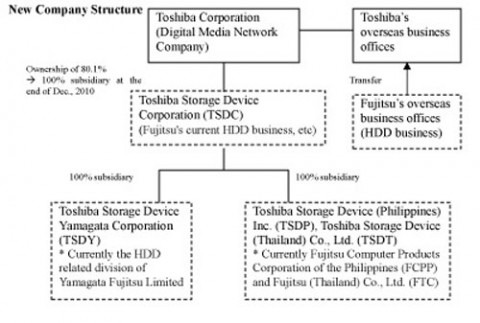 Toshiba and Fujitsu recently came to an agreement regarding a transfer of Fujitsu's hard disk drive business to Toshbia, and both companies announced today the terms of this deal, including when it will be completed and what will take place.
Toshiba Storage Device Corporation or TSDC is the new company that will take over the Fujitsu HDD efforts. The Fujitsu manufacturing plants will be called Toshiba Storage Devices Philippines or TSDP and Toshiba Storage Devices Thailand or TSDT. Toshbia Storage Device Yamagata Corporation or TSDY will take over for Yamagata Fujitsu Limited.
TSDC will be taken care of all research and development while the marketing and such of HDD products will be taken care of by Toshiba themselves. By July 1st, Toshiba will have acquired an 80.1% stake in TSDC, leaving Fujitsu with a 19.9% share until December 2010 when Toshiba will take over completely.