Toshiba A, M, and P 300 Series notebooks as well as U400 notebook announced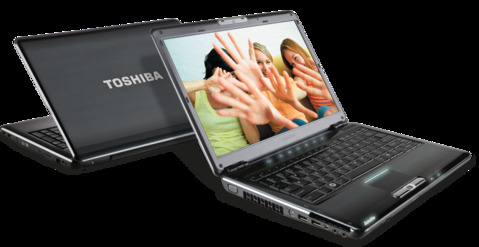 Is it just me or does it seems like Toshiba is working hard to make it through the whole alphabet sometime soon? Regardless, Toshiba has 4 new lines of notebooks to add to the two new ones I told you about yesterday.
Starting with the A300, you get an amazing looking exterior, a 15.4" HD screen, and some LED lit Feather-Touch multimedia keys. It has Toshiba's new Sleep-and-Charge USB ports, a webcam with facial recognition, Harman Kardon speakers, and Dolby audio profiles. It also has Regza Link and HDMI output, you can configure the system with your choice of Intel or AMD processors, and it comes with ATI's Mobility Radeon HD3650 card with 512MB of VRAM. Base price for this system is $949.99.
The M300 is a 14.1-inch mobile computing solution with a similar exterior to that of the A300, has a starting weight of just over 5 pounds, and has the same Feather-Touch media keys as the A300. You also get the Dolby audio profiles, HK speakers, Sleep and Charge USB ports, a webcam and several other features. This notebook is however only available with Intel's Core 2 Duo processors and integrated graphics.
The P300 has almost the exact same feature set as the A300 but in a 17" form factor. You can still get it with your choice of Intel or AMD mobile processors; however on the graphics side you get your choice of ATI's Mobility Radeon HD3470 with up to a gig of shared VRAM or their ATI Radeon X1250 with close to a gig of shared graphics memory when needed.
Lastly, the U400 is the smallest of all the new notebooks, but still maintains a lot of the same features as the A300, but adds in a flush mounted touchpad, 13.3" screen and you only get Intel processors with this one. It also comes with the usual array of security features including a fingerprint scanner, and webcam with face detection.
[via Toshiba]