TorrX smart air pump auto-inflates to the right pressure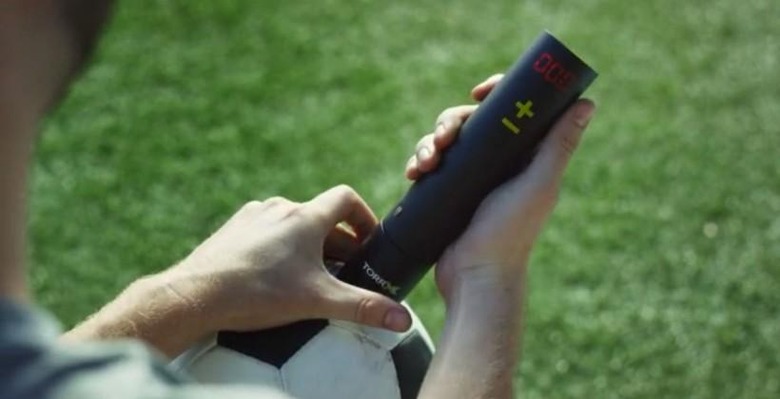 You decide to play a pick-up game, but when you fish the basketball out of the old bin in the garage it is flat and useless. That leads to the air pump, which is a process of trial and error — you pump up the ball until it looks decent, give it a couple test dribbles, add a couple more pumps again, dribble it a couple more times, add a little more air, and then find that you've over-inflated it and have to reverse the process. TorrX aims to eliminate this process with a dose of smart technology.
TorrX is a smart air pump measuring in at 9.25-inches in length and 1.75-inches in diameter. There's an integrated ball needle for pumping up sports balls of different sorts; the needle is revealed by twisting and pushing the cap, which also turns the pump on. A digital display showing PSI appears.
Controls are simplistic, as you can see in the video above. There's a + button for increasing pressure, a – button for decreasing pressure, and an "A" button for setting the Auto Mode. On the end opposite the needle is a micro USB port hidden under a hinged flat, which is used to charge the internal lithium-ion battery. A full battery charge is enough to top-up 50 basketballs before needing charged again.
The folks behind TorrX are seeking $100,000 in funding on Kickstarter, where they've thus far raised about $13,300 with 26 days remaining. It'll take a pledge of at least $49 to get one of the early bird TorrX units, which are set to ship in June 2015. The unit will retail for $80 when it hits shelves.
SOURCE: Kickstarter