Topps and Total Immersion debut 3D Live football cards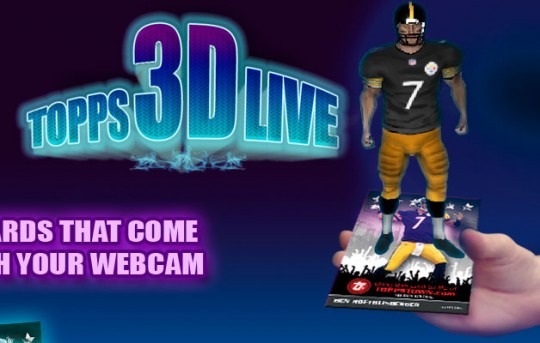 When I was a kid, I collected my share of baseball and football cards. I preferred the Topps brand and still have gobs of them in shoeboxes up in the attic today. Topps and Total Immersion have announced a new generation of football trading cards called 3D Live.
The cards were unveiled today and feature NFL Quarterbacks like Ben Roethlisberger, Tom Brady, Eli and Peyton Manning, and Donovan McNabb. Topps already offers 3D Live baseball cards. Each pack of the cards contains an interactive code card. The code is entered into the Topps 3D Live section of the website.
After entering the code, the card can be held under a webcam and the quarterback will be seen in 3D on the screen and can throw a pass to virtual receivers. The coolest cards we had when I was a kid were the holographic type you had to move back and forth to activate.