Top Notch, Halcro's SSP-100 Full Audio Video HDMI Processor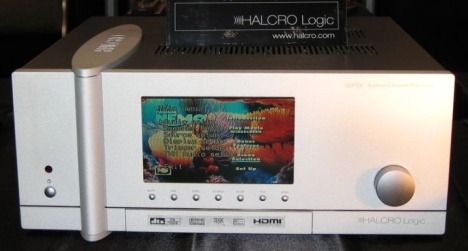 Perhaps the baddest and most expensive audio video preamp-processors on the face of the planet.  The Halcro SSP-100 is a full audio and video processor with a video scaler.  If you are not familiar with Halcro, don't fret.  Halcro is an Australian company known worldwide for their amplifiers, digital circuitry, and sound innovation.  For starters, the unit is huge, thick, with a satin-finished aluminum panel but weight doesn't matter when it comes to high-quality sound.  The large LCD screen located in the front is not joke.  It's a monitor that supports 480i sources so video is a snap.  The unit features USB, RS-232 connections, 10 sources (six audio/video, four video).  It also includes HDMI, component, six S-video, six composite and it goes on and on with connections.
The picture above is the exact model.  As you can see Finding Nemo is playing on the processor's front display.  The unit is professional grade so it comes rack mountable or free standing with a programmable touchscreen remote (seen below).  As far as audio it features 7.1 channel balanced inputs and outputs, 4 programmable output channels which means you can literally play everything on the fly at any time.  The audio features continue with the patented High Dynamic Bass (HDB) for superior, deep lows.  I almost forgot it supports calibration, DTS, Dolby Digital EX, Dolby Pro Logic standards, THX, and it passed various tests to gain certifications.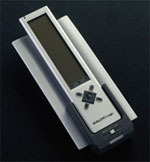 The video capability are just as impressive.  As mentioned before, it features 4 HDMI inputs which puts you ahead of your neighbor's crappy AV system by 4-5 years.  Digital audio and video can be sent through the processor, via your DVD system, and directly to your plasma, LCD, DLP, or projector.  It has 1 HDMI output and DVI is fully supported for the computer geeks.  One of the coolest features that you won't find in other products is the built-in up-conversion scaler to component video & HDMI.  So, if you're sending a 1980's signal through the processor it will do its best to upgrade the quality by filling in the blanks as much as possible.  HDTV 1080p and/or HDMI ouput is a Godsend with progressive scan and many more features.  The only drawback is that owners will need a professional installer to install the system and calibrate it.  Knowing everything about audio and video isn't enough when it comes to this system.  A authorized dealer will have to tweak the device and configure it to its optimal performance then you can start pushing buttons.
Price: $9,900
Halcro's SSP-100 Preamp Processor [Via: halcro.com]