Tonium Pacemaker Pocket DJ Review and Demo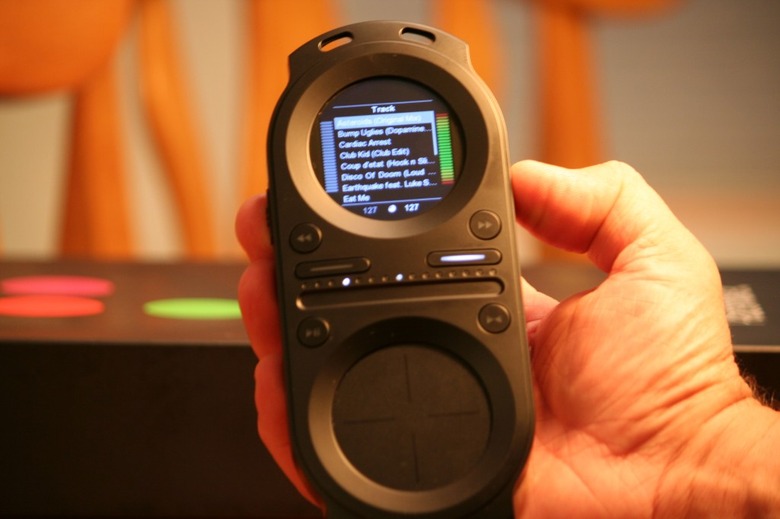 I wish I was a DJ. Or at least, I wish I was talented enough to use the Tonium Pacemaker Pocket DJ effectively. I play drums but I can't mix beats, so I had to call in reinforcements. My good friend DJ T.A.I. offered to help out with taking a look at the Pacemaker, and he was able to throw together a short demo for us in the very short amount of time he had the device.
The Tonium Pacemaker is possibly the coolest $500 you can spend if you're a DJ. The device is a 60GB mp3 player/portable mixer/sound effects generator/turntables/pure awesome. You can store and mix tracks right on the device, or do it on the included software (which makes it really easy by he way) and this makes it possible for professional or amateur DJs to take their beats on the road with them. If needed, the device could essentially act as a makeshift DJ booth just in case a rave breaks out and you have your Pacemaker handy.
Using the device was much easier than I anticipated. The quick start guide showed you the simple gestures required to do whatever you wanted to the track, whether it was fade to the cued track, add in reverb, or beat-match. Soon enough, I had the gestures memorized, and was making poor attempts at mixing some really awesome songs. I decided to let DJ T.A.I have his go with the Pacemaker, and needless to say, he handled that thing like an artist, as if he had always owned the device.
The controls on the Pacemaker include a few buttons to select between the two tracks, a touch pad for doing the bulk of your controls and selections, a touch slider to control the fade, and a switch on the side that acts as sort of an alt-choice selector. The display is beautiful and gives you BPM readouts, EQ, track names, and with the right gesture, can show all the different sound effects you can add in.
The Pacemaker will make many DJs extremely happy, whether they want to simply mix and save tracks on the go, listen to their own mixes and re-mix them, or put on a make-shift rave. The headphone out and audio-out allow for two tracks to be played and cued respectively so the DJ can beat-match and control volumes as well. Syncing your own tracks to the device is as easy as it can be. Drag and drop them onto the device through the included software. You can even import your entire 1980's techno collection from iTunes the first time you start the software.
The Pacemaker is potentially one of the coolest devices I've ever played with, and I hope you enjoy the short video demo by DJ T.A.I. (The music in the video is his own stuff).
[vms 41343aa7acb6a06a751e]