TomTom Start entry-level GPS unveiled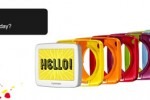 The problem with GPS solutions for many drivers is that they just don't drive enough or take enough long trips to justify the expense of a GPS solution. TomTom has announced a new GPS device specifically for entry-level users who don't spend much time in the car, but still want navigation when they are in the car. The device is called the TomTom Start.
The Start is a simple device for occasional drivers with an interface that has only two buttons for "Plan route" and Browse Map." The device is small and compact sporting a 3.5-inch screen and has a semi-fixed EasyPort mount.
The GPS is sized to fit easily into a pocket or the glove box of a car. IQ Routes technology is built into the Start allowing the user to travel with the fastest route at any time of the day with accurate travel times. Also featured is TomTom Share to allow users to make their own map changes. The Start sells for €129 for a device with regional map or €149 for European.