TomTom Car Kit for iPhone hits European stores today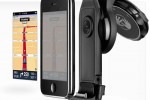 TomTom has been talking up its Car kit for the iPhone for a while now. Navigation fans in Europe can starting today pick the car kit up on the TomTom web store and from the Apple online store. It would be hard to have missed the specifications of the iPhone car kit, but in case you have, they are as follows.
The TomTom Car kit has a secure docking design that attaches to the car windshield or dashboard with a twist and lock motion. The mount is rotatable to allow use of the phone in portrait or landscape mode and can be removed with one twist once at your destination.
The car kit also includes a built-in GPS receiver to reduce GPS drops out in areas where signals can be challenging like areas with tall buildings or trees. The device has a built-in speaker and mic as well to allow direction to be heard and hands free calling. The kit also charges the iPhone while it is in use. The device is available for 99,99 euro and is compatible with the iPhone 3G and 3GS.