TiVo Premiere Elite DVR Surfaces With Four Tuners Onboard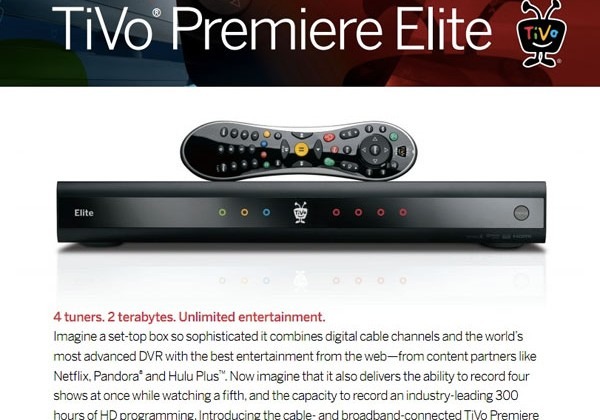 If you have been waiting for the next version of the popular TiVo DVR to debut, it is here. The new DVR is called the Premiere Elite and it has some impressive specs. The DVR has 2TB of storage space inside and quad tuners. That is enough room for 300 hours of HD programming. That much storage space with four tuners opens lots of doors for TV fans.
Four tuners means you can record four different shows at the same time and watch a fifth. Apparently, the DVR need to get an analog tuner waver from the FCC, which is expected to be granted. Once that is given, it will hit stores for $500. The DVR is also broadband connected. That means that it can stream all sorts of content from Netflix, Pandora, and Hulu Plus.
The big downside to this TiVo DVR and any other TiVo for that matter is the monthly TiVo fees on top of your cable plan. TiVo will charge you an extra $20 monthly for service or $500 for a lifetime. The DVR is THX certified for sound quality. There is no indication if users will get a discount on multi-units or lifetime upgrades. Still, the DVR sounds really cool.
[via Zatznotfunny]