Tiny VoIP speakerphone transforms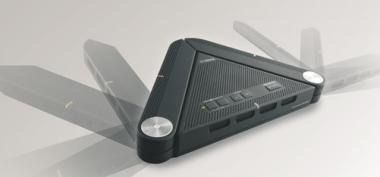 It's really quite fascinating what people like about different gadgets. Take, for example, this VoIP speakerphone. People aren't marveling at its small size or cool technology, but rather its keen ability to transform.
Its small size is actually quite refreshing, as it weighs only 1.25 pounds, which is considerably less than some other units. One thing to note is that it does have a USB connector so it can suck juice from a PC, or you can just use the included AC adapter.
The PJP-25UR is a bit pricey for what you get. It will set you back $500, but at least you'll be able to entertain yourself by swinging the arms in and out during your conference calls.
Speakerphone thinks it's a Transformer [via crave]