Tiny CHIP computer destroys Kickstarter goal in days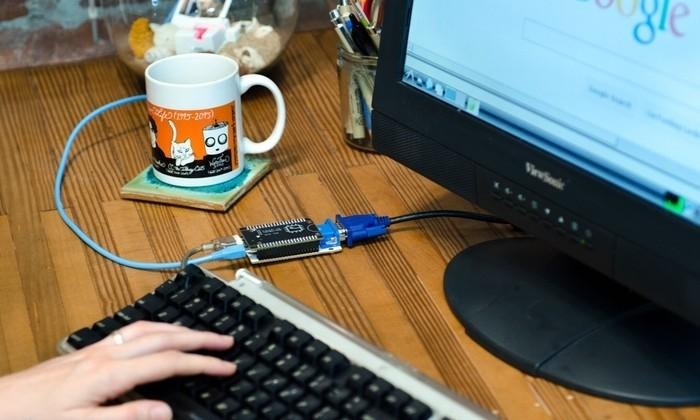 On a severe budget, but still want to tinker with DIY gadgetry? CHIP may have recently sparked your interest. If it didn't, you might be in the minority of tech fans; at $9, CHIP has absolutely demolished its Kickstarter goal of $50,000, earning upwards of $735,000 (at the time we publish this article). As small as it is, CHIP is still a full-fledged computer, and can support peripherals like a keyboard or mouse. CHIP even links to any screen you like, making those tiny set-top computers seem downright massive.
That peripheral connectivity is mainly wireless via Bluetooth 4.0, but there nonetheless. CHIP also sports a 1GHz processor, 512MB RAM, and 4GB Memory. WiFi 802.11 b/g/n is also on-board.
CHIP is best appreciated as a Raspberry Pi competitor — nobody is yet making full-fledged apps to run on CHIP. The tiny powerhouse runs on the open-source Linux mainline.

Pocket CHIP turns CHIP into a portable computer, with a 4.3-inch 470 x 272 resolution screen and full keyboard in a pocketable form factor.
The tiny computer also has a full battery circuit — just attach a 3.7v LiPo battery and you're in business.
If you're interested in giving CHIP a shot, you still can. The Kickstarter has 25 full days to go, and you can still check it out for $9. If you need more, a CHIP with battery is $19, and the $24 package adds an HDMI adapter. If you like the idea of Pocket CHIP, that package starts at $49.
Source: Kickstarter