Ticketmaster and Eventbrite to sell tickets via Facebook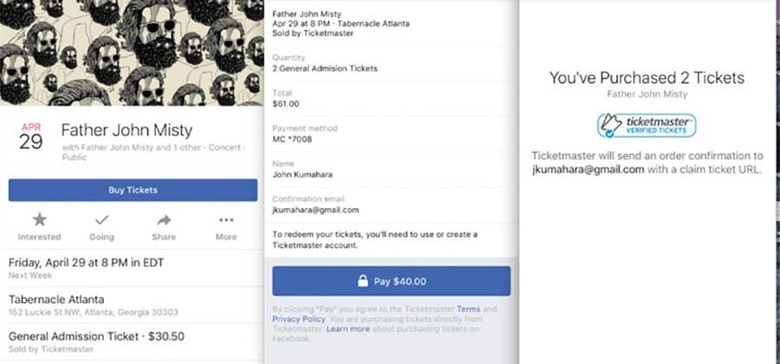 Fans of live music will have two new ways to buy concert and event tickets via Facebook. Ticketmaster is set to begin selling tickets directly on Facebook by the end of April. The move comes as customers for many firms spend less time on websites and more time on social networks like Facebook via mobile apps. Facebook is one of the top destinations for mobile app and social network users.
"By putting the ability to buy tickets directly within Facebook we hope that we're going to provide a more seamless purchase experience and sell more tickets," Dan Armstrong, VP and GM of distributed commerce at Ticketmaster told BuzzFeed. Facebook has also been working on other ways to help sellers link up with the hoards of people that use the social network online and via mobile apps each day.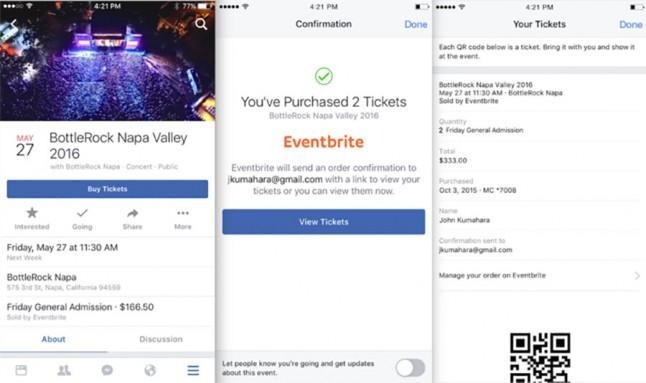 One way it is doing that is by experimenting with shops integrated into pages. Facebook messenger is also getting in on the direct sales action with the ability for users to hail a ride with Uber or Lyft. Messenger users can also check on flights via KLM airline. Facebook collects a standard affiliate fee each time a ticket is purchased from one of its users.
Ticketmaster competitor Eventbright is also selling tickets directly on the social network. Facebook Product Partnership staffer Jon Park says that Facebook wants to not only help people find events but to help them get to events faster. Interestingly Eventbrite says that it won't be paying affiliate fees to Facebook during this pilot of its service.
"We are committed to innovation that helps event organizer sell more tickets," said Eventbrite VP of Product Laurent Sellier. "Enabling a seamless purchase experience for consumers in places like Facebook where they are spending significant time is an important step in this mission."