Three new wireless headphones announced by Sennheiser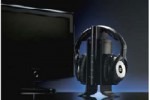 We have already talked about the new PC VOIP headsets that Sennheiser has announced this morning and now we are going to talk a bit about some new wireless headphones from the firm. Sennheiser has announced the new RS 160, RS 170, and RS 180 headphones.
All three sets of headphones are wireless and designed to connect to TVs, stereos, and DVD players. They all sport padded ear cups for long wear comfort as well. The RS 160 has a 20 meter wireless range, the RS 170 goes for 80 meters, and the RS 180 is good for 100 meters, all within line of sight from the transmitter.
The frequency response from the headphones is 18 to 21.00 Hz and all three have a sound pressure level of 110 decibels. The entry-level RS 160 uses a closed design and offers good bass. The RS 170 also has a closed design, but ups the ante with switchable surround sound. The high-end RS 180 is an open design that promises a natural listening experience. The headphones will all ship in October at unknown prices.