This Pokemon watch costs more than a house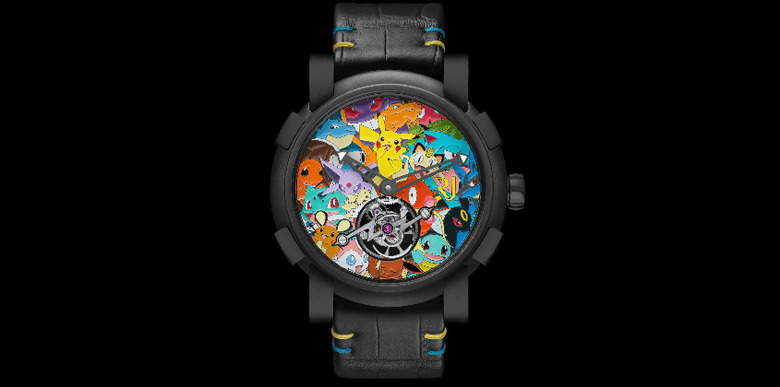 The world of Pokemon merchandise is as wide as it is deep. From Build-A-Bear stuffed animals to trading cards, there's some kind of Pokemon merchandise for everyone out there. Today we can add one more group of people to that list: the ultra-rich. Swiss watchmaker Romain Jerome has introduced a brand new luxury watch that has sports a Pokemon theme, but if you want one, it's going to cost you a lot of money.
How much is "a lot of money"? $258,000. That's the asking price for this timepiece, the Tourbillon Pokemon, forcing it well into the realm of luxury watches. For that amount, you'd expect it to be adorned with diamonds or something like that, but at first glance, it certainly doesn't appear to be something that demands a quarter of a million dollars.
So what gives? The watch's price actually reflects the amount of time RJ has to spend crafting one. Over on the watch's landing page, RJ says the hand-made dial alone is something that requires "hundreds of hours to create" due to the amount of colors it uses. Looking at how intricate it is, we don't really have a hard time believing that estimate.
Indeed, there are quite a few Pokemon packed onto that dial. While many of them are Pokemon that people who played Red and Blue will recognize, there are a few Pokemon from newer generations featured here. Still, first generation Pokemon take most of the spotlight, with none other than Pikachu being granted top billing among this group.
It's certainly a good looking watch, but the question now is whether or not it's worth $258,000. For most, we're guessing the answer is no, but among die-hard Pokemon fans with a lot of extra money to burn, we might find one or two takers. Would you pick this up if you had the cash? Head down to the comments section and let us know!
SOURCE: Romain Jerome