This messaging app just blocked ALL Breitbart links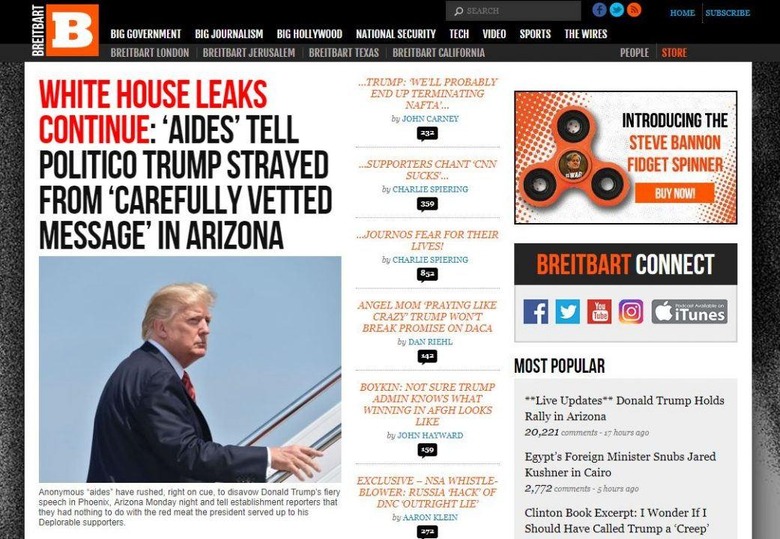 With Steve Bannon out as White House Chief Strategist and returning to his role as Executive Chairman of Breitbart News, messaging app Blend has announced that it will begin blocking links to the site. This is sure to be a controversial decision, but it may not be one that ends with only Breitbart targeted. To hear the CEO of Blend explain it, this is part of a larger effort to snuff out fake news in general.
"With all current events going on and conversations around real and fake media, we're going to be examining sources of content that our Genies are sharing," Blend CEO Akash Nigam said to The Wrap. "We've decided as a team to eliminate Breitbart starting today."
For the uninitiated, those "Genies" Nigam refers to are bots that supply group chats hosted through Blend with all manner of content. Whether it's trivia, weather, music, or news that may be relevant to the conversations, those Genies are responsible for sharing it and giving Blend a standout feature against other messaging services. As of today, those Genies are going to stop sharing links to Breitbart News.
Breitbart, of course, has attracted its fair share of controversy as being a platform for the alt-right. The website has aligned itself heavily with current President Donald Trump, attracting both criticism and praise in doing so. After he was elected to the Presidency, Donald Trump famously named Breitbart Executive Chairman Steve Bannon as his White House Chief Strategist, a role he was removed from last week.
This decision to ban links from Breitbart will probably prove to be a controversial one, at least among some circles who use the app. We'll see if Blend decides to ban links from any other sites in the future, but for now, head down to the comments section and let us know what you think of this move.