This Medieval Sword Was Found In A Bog, And A Knight's Remains May Follow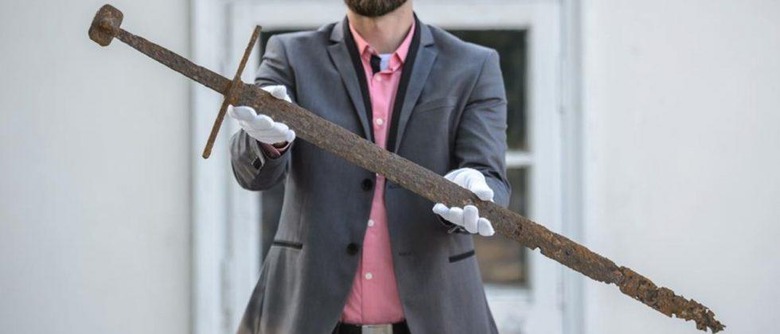 A notable archaeological discovery is coming out of Poland, where researchers have recovered a medieval-era sword from a peat bog. The sword is still in good shape, at least for something as old as it is, bearing all of its components minus the hilt padding. Researchers say the preservation is excellent enough that even a small marking — likely the blacksmith's mark — is still visible on the sword.
The discovery was made near Hrubieszow, according to Polish publication pap. The weapon dates back to the 14th century, and has since its discovery been donated to the nation's Fr. Stanislaw Staszic Museum. The museum has itself passed the sword off to officials in Warsaw, where it will undergo conservation measures, after which point it will be given back to the museum for everyone to enjoy.
The sword measures just under 4ft in length and is described as being very light at only 1.5kg, or about 3lbs. The weapon was designed for two-handed use, and though it still has a hilt that can be grasped, the padding or covering has since been lost. Researchers believe it was likely made of something like antler or wood, which would have made it vulnerable to the elements. A heraldic shield and isosceles cross is found on the back of the weapon, which researchers say was a type of ancient brand mark.
The discovery is an important for one big reason: the location of discovery is known, enabling archaeologists to go there and investigate for additional artifacts. It's not clear how the sword ended up in the bog, though one possible explanation is that the knight who owned it may have fallen victim to the marshy landscape, in which case his remains may be recovered. It is just as possible, though, that the sword was lost while someone passed through or that it was tossed into the bog for reasons that will never be known.
Photo via Pap