This is Uber's future (and massive) San Francisco campus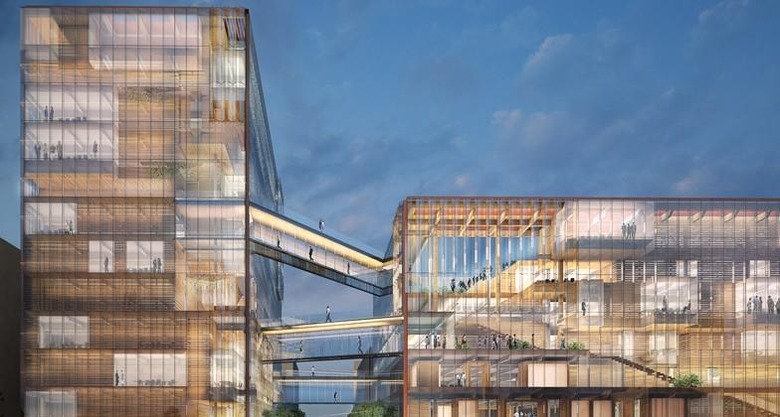 Uber is many things: controversial, successful, and usually undeterred. It's also wealthy, and what better way to demonstrate that wealth than a big glassy campus in tech-heavy San Francisco? The ridesharing service has commissioned a pair of companies to develop the campus, and concept images showing what the final structures will look like have been published. In them we see two buildings, one larger than the other, connected together with glassy walkways over the street sandwiched between them, as well as a lot of glass and interior wooden rooms.
The campus will total 423,000 square feet, and will include a larger 11 storey building connected by walkways with a similarly designed six storey building. Both will have largely glass exteriors, allowing the public to peek inside while also letting more sunlight through — making the area seem open though it is packed with a couple large buildings. The campus will be located on Third Street in what are currently empty parcels of land.
Uber has tapped the interior design firm Studio O+A, as well as SHoP, an architectural studio. The first of the two is no stranger to designing campuses for tech giants — it previously designed the office interiors for places like Evernote and Facebook.
Says the architectural studio, the campus also turns an eye toward trends, with it marking "a departure from the growing trend of an entirely open-plan office. Instead, work stations are arranged in a series of smaller neighborhoods, each with access to shared support and collaborative work zones."
SOURCE: dezeen