This Folding Bicycle Helmet Isn't As Scary As It Sounds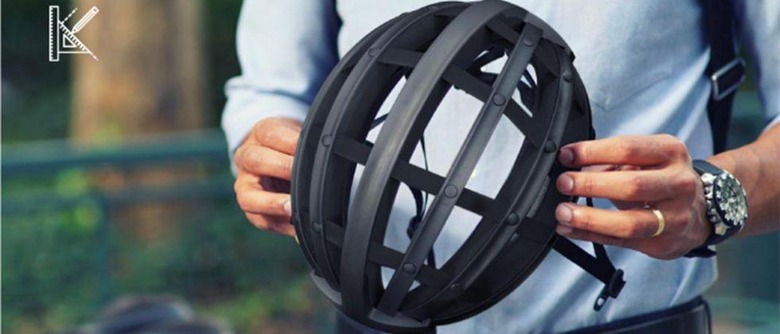 Someone made a folding bicycle helmet, their intention being the conservation of space in one's bag while out and about, and naturally it sounds suspicious. A helmet is, in some cases, the only thing standing between the road and your skull. One would assume a folding helmet would be less capable of protecting said skull due to its propensity toward, you know, folding. That's not a concern, though, according to the team behind it: Fend, the collapsible bike helmet, features a special joint system that will keep it open and secured when you need it most.
FEND is a bicycle helmet that looks like it was made for grownups — one may even dare say it looks something nudging toward stylish. Unlike traditional bicycle helmets, FEND features a series of ribs with open space between them, the combination of which makes for a breathable — and collapsible — design.
Tug on the outer ribs, and the helmet will expand open like a pocket fan. Push them together, and the ribs collapse against each other, making the helmet more compact for storage in a purse or backpack.
The team behind the helmet say the use of a proprietary joint system makes this possible without compromising safety. The helmet is said to exceed both European EN 1078 and US CPSC safety standard with all the necessary certification requirements. The ribs "click into place" when the helmet is fully expanded, keeping them open and secure in the event of a high impact situation. Both metal figures and ultra-durable nylon straps are used, while the ribs are made with a hard shelled ABS.
The company behind Fend is seeking $40,000 in funding on Kickstarter, where it has so far raised about $17,000 with 27 days remaining. Interested backers can pledge $79 USD for the early bird special, which is expected to start shipping in May of next year (other backing options list later shipping dates). The helmet's expected retail price is $120, but as with all crowdfunded campaigns, that may change.
SOURCE: Kickstarter