These Are The Things You Can Do When You Buy An Amazon Echo Show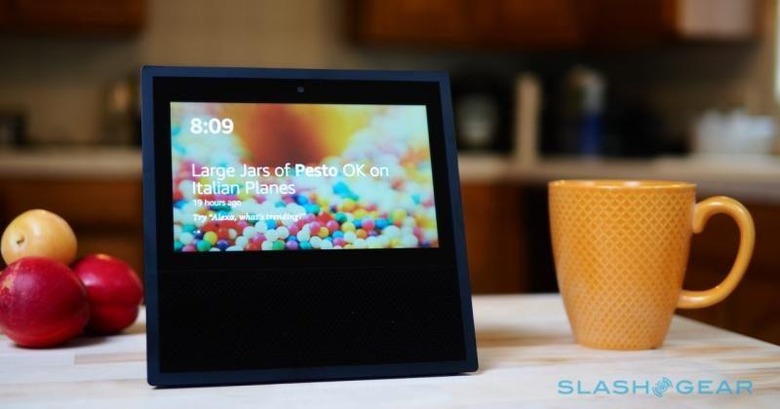 When the Amazon Echo launched nearly three years ago, barely anyone knew how to make heads or tails of it. Fast forward to today, even the likes of Google and Apple are seen as trying to catch up with the retail giant. Amazon stepped up its game when it announced the Echo Show, which goes on sale later this week. And to remind everyone what they're really getting when they purchase one, Amazon released some videos showing off what can be done on what is probably the closest we'll get to a real-world Star Trek LCARS.
Although Echo and Alexa still communicate primarily by voice, Amazon, and later Google, concede that there are times when pictures do paint a thousand words. Especially when those words are shopping items or song lyrics. The Amazon Echo has always been marketed as a shopping helper so it is no surprise that one of the Echo Show's primary functions is shopping list management. Seeing your entire list at a glance is definitely better than having Alexa rattle of dozens of potentially incriminating items from your list. You can, of course, just as easily remove such items as you can add more.
Entertainment is another area where Amazon fiercely competes with giants like Apple. Although the Echo can be used to control playback of various music apps, you get something special when you play something from Amazon Music. The Echo Show will also scroll the song's lyrics, letting you sing along to the tune.
Or you can tell Alexa to show you videos instead. You can easily browse the Amazon Videos collection and even ask her to play a movie's trailer. Whether you'll want to actually play the entire movie from the Echo Show, however, is something still up for debate.
There might also be times when you actually don't want Alexa to be bothering you. Simply say the words "Do Not Disturb" and she won't That said, the Echo Show won't stop showing you essentials like the time. For that, you'll have to turn it off completely.
The Echo Show is definitely an interesting turn in the smart home speaker race, but whether it is the product to beat is something we're still asking ourselves. In our in-depth review, we were indeed impressed by the default Amazon skills but were less convinced with the third party skills that have helped make Alexa shine. It is pretty much a diamond in the rough that needs a few more software iterations to become a convincing $230 purchase.