It's no secret that camera makers have felt threatened by the popularity and growing capability of smartphones and their cameras. Some have simply chosen to ignore it and focus on their higher end. Some have tried to make their point and shoot cameras more affordable and enticing. Some, like Kodak, have decided to just jump on board. After putting out the Ektra smartphone, Kodak has decided to do likewise for tablets. No Ek-centric name this time. These are just called KODAK Tablets, and you might have to think really hard why you'd want one.
"Underneath their elegant design, these devices include the latest technologies and a set of preloaded apps for editing, sharing and printing memories from daily life anywhere anytime at an affordable price." That is how Kodak is trying to position these Android tablets. That premise, however, falls apart on two accounts. On the design aspect, the tablets are a walking advertisement for Kodak, with a blinding yellow back that has become easily associated with the camera maker. Fortunately, there is also a less glaring black option.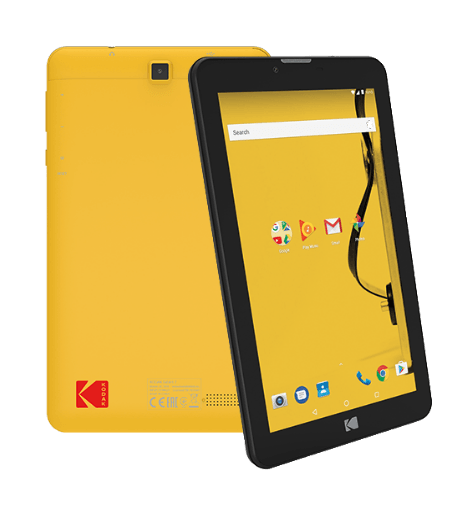 The Kodak tablets also fail on the "latest technologies" part. This is not to diss whatever 64-bit quad-core MediaTek processor runs inside, but the 1 GB of RAM tells us that Kodak should have waited for Android Go. The tablets come in two sizes, 7 and 10.1 inches, and both have HD resolutions only, 1024×600 and 1280×800, respectively. It's one good point? It does run Android 7.0 Nougat out of the box.
Kodak makes it a point to advertise the preloaded apps on the tablet, mostly CYBERLINK's apps for photo and even video editing, apps that can be downloaded for free from Google Play Store. Presuming the tablet's hardware can actually cope up with the processing. The tablets could be intended to be paired with digital cameras, because you definitely wouldn't want to take photos from the 8 megapixel cameras found on both tablets.
It isn't yet clear how Kodak is positioning these tablets in the grand scheme of things. Other than obnoxious branding, the tablets don't exactly offer anything that can't be found from other brands, with better specs to boot. Even the Kodak Ektra phone might have a better chance of convincing buyers. For those willing to invest in whatever vision Kodak has, the Kodak Tablets go on sale in Europ at the end of the month, for 79.99 EUR ($89) for the 7-inch tablet and 119.99 EUR ($135) for the larger 10-inch model.
SOURCE: Kodak