Thermaltake Toughpower W0171 - PSU that pumps out 1500W of power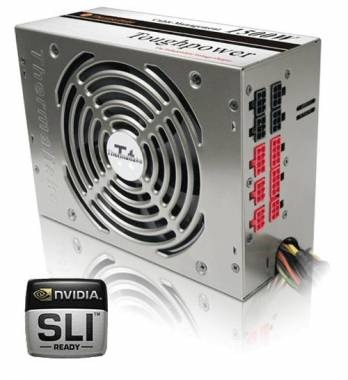 Jesus Christo! That's a lot of freaking power! I guess if you are attempting Quad-SLI with dual Quad-Core Xeons and 20 hard drives you might need that kind of power.
I only give that example because I can't readily think of any situation where I would need that much power in a single PC case where redundant power supplies wouldn't become an apparent necessity. Just in case you were wondering, it is SLI certified, the fact that this thing could easily power more than one entire computer is kind of scary.
Its certified for Intel ATX 12V 2.3 and EPS 2.91, and will support dual core and quad core CPU's as well as multi-core and multi-card graphics solutions. It has 4x 8-pin and 4x 5pc PCI-E connectors meaning its set up to work with up to four graphics cards. The best part, its modular, so there won't be a bunch of cables you don't use floating around inside your case. No word on price or availability though.
Thermaltake's Toughpower W0171 PSU pumps out a massive 1500W of power [via gadgettastic]