The top 10 mobile apps of 2015

With the year drawing to a close, it's a good time to take a look back at what the most popular mobile apps were for the year. They're honestly not too surprising, and in a way, it's almost depressing. Why depressing? Because of the top 10 apps, there are only three different companies to be seen. Take a look below.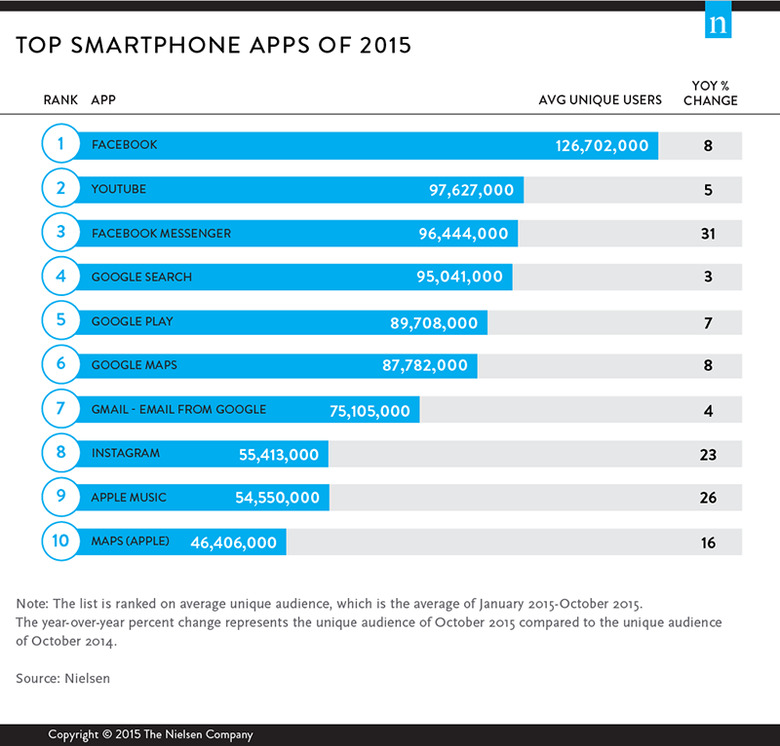 That's right, Google, Facebook, and Apple are responsible for all 10 of the most popular apps this year, according to Nielsen. The biggest movers were Facebook Messenger, which had a year-over-year change of 31%, with Apple Music making the second biggest move, with 26% growth from last year's estimates.
For those unfamiliar with Nielsen's ratings, they capture the average unique audience over the age of 13. They surveyed around 30,000 individuals in the US to come up with the rankings listed above.
The company also reported on which mobile platforms were the most popular among US users. The results were about what you would imagine. Android holds the crown with 52.6%, iOS has 42.7, which leaves just 5% left to be fought over by Windows, Blackberry and "other."
Source: Nielsen