The Nokia N73 Godfather Edition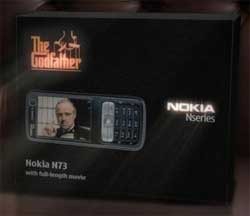 I'm sure that many people out there would argue that The Godfather series were some of the best movies of all time. I guess the folks over at Nokia would be inclined to agree.
Apparently, they enjoy the movies so much that they decided to share the original Godfather movie with those purchasing the N73. That's right, they are releasing the N73 "Godfather Edition." The phone is just the same as every other N73, but they packaged it in a special box with a 256MB memory card that contains The Godfather in its entirety.
No word yet on when this will be released, or how much you'll need to fork over to get your hands on one.
The Nokia N73 Godfather Edition: An Offer You Can't Refuse? [via gearlog]